Wine & Spirits E‑commerce
Exquisite Design for Your Wine & Spirits Store
Whether it's relaxing after a stressful day in the office, or celebrating a momentous life occasion, wine & spirits almost always underscore such events. As an intelligent e-commerce entrepreneur, you undoubtedly recognize that the demand for wine & spirits is alive and shoppers are opting for online venues over brick-and-mortar on a regular basis. It only makes sense to create a wine & spirits e-store, and we are the ones to help you do it! Our talented web developers can deliver responsive web design to make shopping more convenient for your customers, with focused UI/UX design, on the e-commerce platform that best fits your business endeavor. We'll deliver great results by implementing intuitive navigation, and an enhanced user experience by including aspects such as large, clear product images. We could even emphasize things like the vineyards that produced your wines, complemented by an interactive map.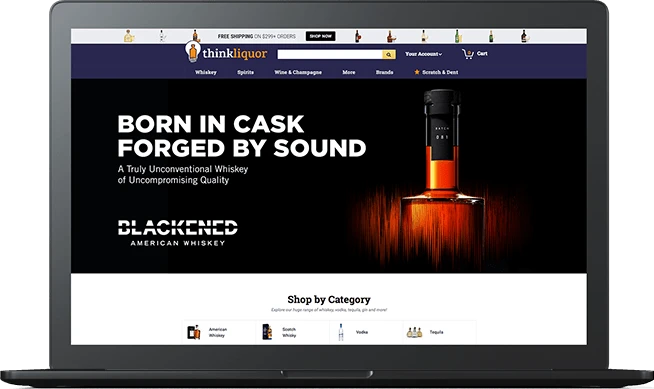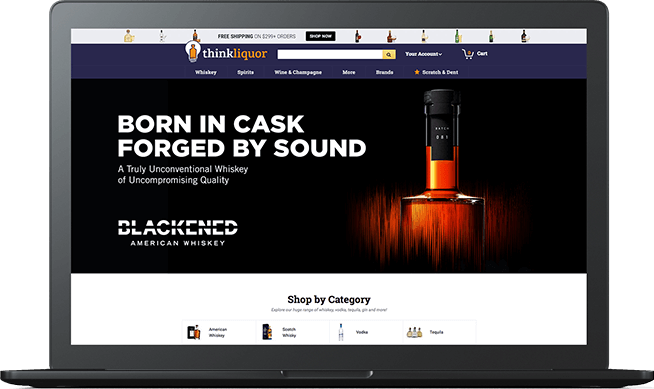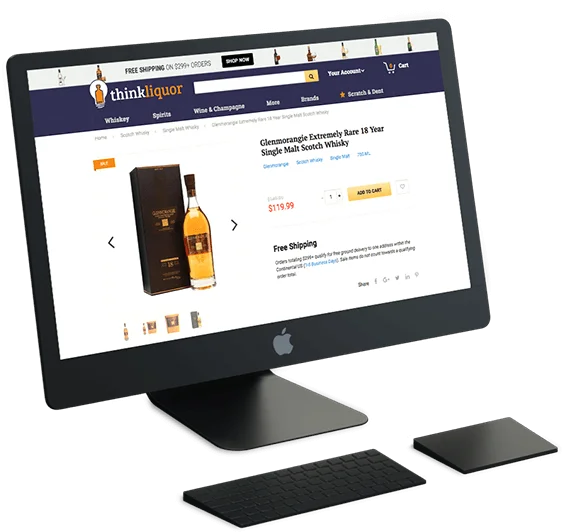 Development Services to Sell
Wine & Spirits Online
Our development services run the full gamut so that we can create the wine & spirits e-store to make your business a success. They include front-end and back-end development on various e-commerce platforms such as Magento, or WooCommerce, with deeply attentive project management and quality assurance so you can feel confident going forward that your wine & spirits store will be more than what's expected. Our websites are always built to the latest standards (HTML5, CSS3, PHP7), and have the most robust security, maintaining PCI & GDPR compliance. We also provide helpful marketing extras like specific software aimed at marketing, as well as stroking software, and SEO. At Whidegroup, we are professionals in our field, truly knowledgeable about the ins and outs of e-commerce websites. Our work gives our clients the peace of mind that their site is in good hands, so they can focus on other aspects of their business.
Website Features for Your Wine & Spirits Store
Wishlist
Including a wishlist on your site gives shoppers the chance to save special items for later or put items aside while continuing to explore other products. The best part is shoppers can send their wishlists to others and drive traffic to your shop.
Discount & Promotion Management
Whidegroup can develop a special extension to help you create and manage discounts by enabling you to set the sale parameters, such as the quantity requirements, etc. People love a good deal, and this allows you to give it to your customers.
Social Media Integration
People love to show their friends what they're up to, which is why social media integration is key to carrying your brand forward. We make it easy for your shoppers to share your brand on social media platforms with a simple click of a button.
Multilingual Website
Your website can be made available in various languages to satisfy customers from all over the globe. This is beneficial because it creates a feeling of comfort and security for your customers while they shop, which will likely have them returning.
Chat and Chatbot Implementation
When you include a live chat feature on your website, it's like being open 24 hours. Customers from all over the world can interact with your store any time of day, in any language. A chatbot can answer customer questions and help their decision making!
SEO
Search Engine Optimization is key to online marketing success because it has a direct impact on your website's findability on search engines. Well-designed SEO includes considerations like reader-focused content, user-friendly URLs, and full meta data.
Smart Checkout Flow
When it comes to online shopping, people want convenience. A smart checkout flow makes your customers' shopping experience easy because it cancels out redundant steps, taking them from cart to checkout and payment in a swift manner they'll appreciate.
Abandoned Cart Recovery
When your shoppers need that extra nudge, abandoned cart recovery allows them to be reminded of the purchases they were about to make. Mechanisms like well-timed email reminders can help you recover at least 30% or more of otherwise lost sales.
How Much Does It Cost to Build an Online Wine & Spirits Store?
The cost of building your online electronics store is largely affected by how many hours are required to finish the job. The time it can take to build
a website depends on various factors. Beginning with the initial assessment and design, the front and back-end development, and the final stages of the live server setup and deployment, a completed web build can take upwards of 550 hours. This length of time is dependent on the complexity of your site, along with the number of apps, etc. that you may want to include. The more complex, the more time to be spent, the higher the cost. However, another aspect that affects cost is the location of the developer. Regions such as the US or Western Europe see higher rates charged, while places like Ukraine can deliver the same high-quality results for a fraction of the market rate. At Whidegroup, we want to provide you with the website solutions that will exceed your business needs. For a complimentary quote on our services, connect with us today!
TELL US ABOUT YOUR PROJECT - WE'LL RESPOND WITHOUT DELAY!