According to stats, 64% of Americans 18 and older surveyed in 2019 said they drink a cup of coffee every day. 79% of them drink coffee at home. As for Europe – figures are even more impressive! Coffee is the most traded commodity in the US, and its popularity continues to grow on global markets like the UK, China, and Japan. If you have ever wondered how to start an online coffee business on your own – you've come to the right place! In this article, we explore this subject from A to Z, review the best online coffee sellers, consider the requirements to build the store, and look at many other aspects. So, keep reading and find meaningful insights on how to build an online coffee store!
The Very First Step: Find Your Vendors
Don't forget to take into account factors such as production capacity, geographic limitations, and dropshipping costs. Define the production capability of your coffee business and work with a supplier who will be able to meet your production needs on time. Along this line, search for a dropshipper who covers your geographic area and has the best prices to offer.
Most likely, you're interested in offering only the best coffee beans to your customers. Thus we'd like to demonstrate a breakdown of the countries that are considered to be world leaders when it comes to supplying coffee.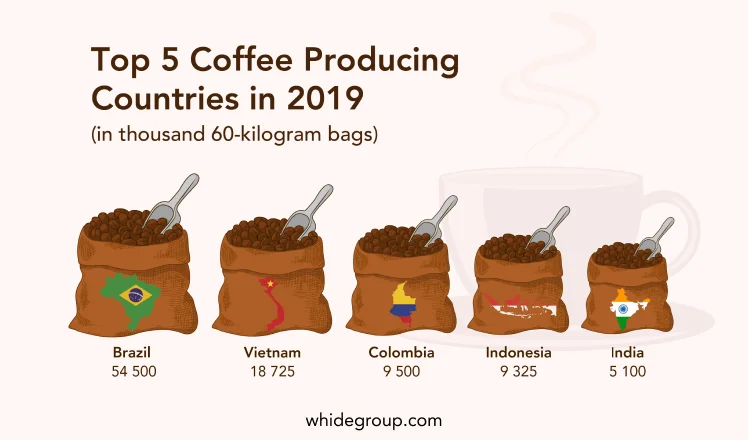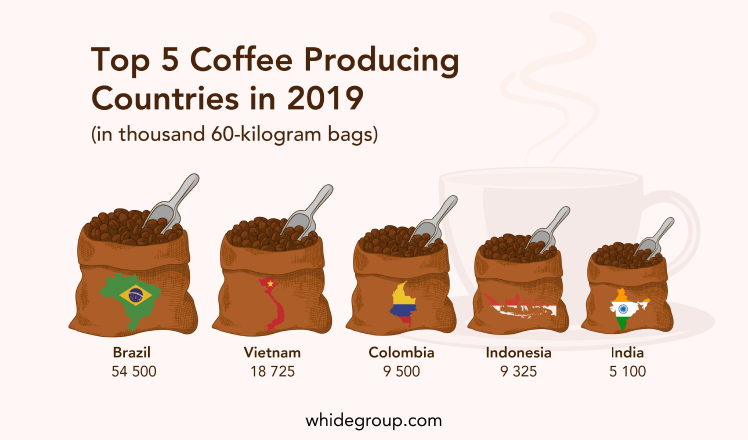 Best Online Coffee Stores
In putting this article together, we visited many stores that sell coffee online. Then, we composed the list of the three best online coffee companies along with reviewing their peculiarities. We hope you'll find your inspiration and come away with some meaningful insights after reviewing this list.
1. MistoBox
MistoBox is a small business supporting other small businesses – and they're proud of it! Today, MistoBox's network includes 40 roasters with more than 600 coffee grades. The company uses a marketplace business model matching the most professional roasters with consumers who would like to subscribe to high-quality coffee.
How it works: First, a specially trained coffee curator starts with a short survey to find out the customer's preferences for coffee. For example, if you have specific or conservative taste preferences, go for light roast or dark, or single-origin beans or blends. Based on the customer's answers, the curator selects and sends a 12-ounce bag of coffee that he or she thinks you will prefer the most. The customer selects a shipping plan, and the coffee arrives at a chosen period of time. Customers also have the option to receive coffee packs regularly, in a range from every 10 days to every month.
UX: The website has been dramatically redesigned and upgraded recently. It continues to evolve and will soon make customer coffee reviews available to guide other customers in their search. MistoBox's website is easy and convenient to navigate. Its light design allows the user to concentrate on services promoted by the company without any chance to get distracted. It also provides an easy-to-choose shipping frequency. For convenience, coffees are listed alphabetically, with pictures of the various flavors in each one (fruits or other foods). Once you have ordered your first shipment, the support team will contact you to notify you about the order details, or you can create a personal account and view the information there.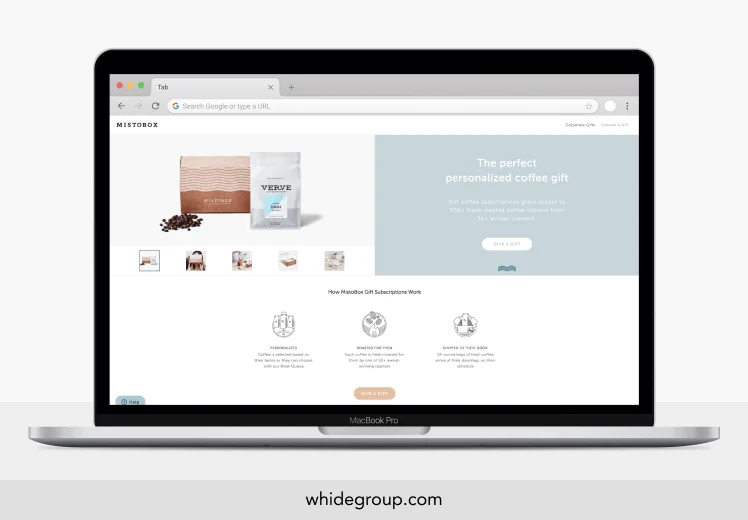 2. Crema.Co
Talk about the best online store ideas would be incomplete without mentioning Crema.co – a coffee subscription service that states: "Coffee is a community, not a commodity". An interesting feature of this coffee company is that it works only with small-batch roasters from different corners of the earth, telling the story behind every coffee producer on their website.
How it works: In the beginning, there is a survey that will provide users with a personalized experience. The user can always ask for help from a professional coffee curator. Another interesting feature about Crema.Co is the search option for different coffee grades by the roast level, geography, or certification. Another great feature is the Playlist. After tasting various coffees from different regions and roasters, subscribers can create their own list of preferences or "play lists". Customers can also choose the frequency of coffee delivery (from five days to one month). Subscription price varies from $16 to $22.50.
UX: The Crema website offers a nice, clean, modern look that appeals to coffee lovers. The main menu is well-organized, allowing you to easily find coffee roasters, or even to buy your favorite coffee lover a gift. The user interface enables users to experience an easy and cheerful interaction with the service. The customer will also get an email notification when their favorite coffee is running out, when it's out of stock, or when a new one is available.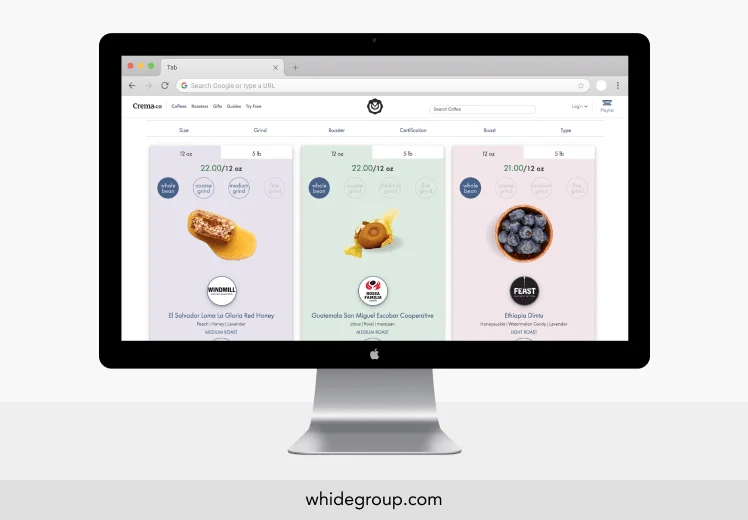 3. Angels' Cup
Angels' Cup is a coffee subscription box focused on single origin coffee from top-quality roasters. Freshness is a priority for this business, so they ensure a 24-hour manufacturing process, which includes receiving the roasted coffee beans, packing them, and shipping them to customers.
How it works: Angels' Cup subscribers have the option to order a bag of coffee, meanwhile the service tries to upsell their sample packages. After, subscribers typically select the regularity that they will receive their coffee (from weekly to monthly). Every month customers get their package with four various coffee grades. Angels' Cup strives to support an atmosphere of mystery, so the service marks each coffee bag with a number. It allows subscribers to taste coffee blindly and concentrate on the feelings only, and then guess the coffee grades' notes and names. Roasters and coffee ingredients are mentioned on cards that accompany the coffee.
UX: The first thing should be pointed out about the Angels' Cup website is that it has extremely clear navigation. The website is also interactive and easy-to-use. For mobile users, it has an application, which defines the taste preferences of the customers in a playful way, as you can see in the screenshots below.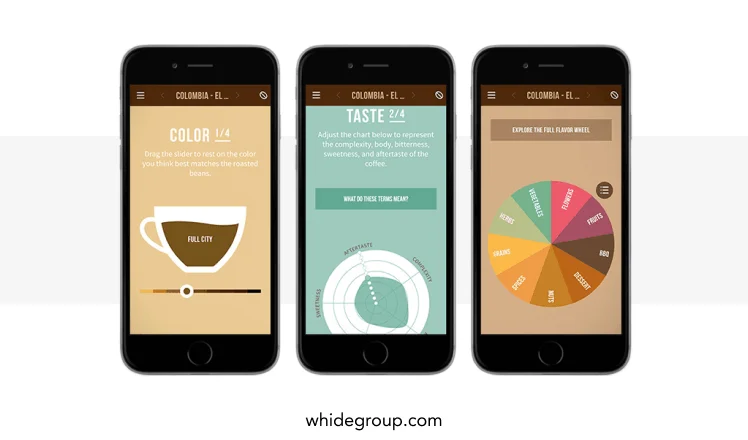 Useful Third-Party Integrations for Coffee Store Development
How Much Does It Cost to Build an Online Coffee Store?
The price issue is critical for any business, so it is natural to pay particular attention to this aspect of your online coffee store development. For your convenience, we underlined some of the most critical stages of starting a coffee business online, and estimated each one separately. You are welcome to check out the price table below.
Stage
Estimated Cost to Implement
Estimated Cost to Implement
From $29 per month
Estimated Cost to Implement
From $11.95 per month
Stage
Price to develop e-commerce pages
Estimated Cost to Implement
From $50 per each page
Stage
E-commerce website design cost
Estimated Cost to Implement
From $37 per theme
Stage
Payment processing implementation
Estimated Cost to Implement
2.9% + $0.30 for every transaction
Estimated Cost to Implement
From $500 per month
Stage
E-commerce website maintenance cost
Estimated Cost to Implement
From $500 per year
In addition to the above-mentioned objects of expenditure, you should also be prepared for some additional costs. Such costs might include urgent purchase of needed third-party integrations, costs for sudden issues elimination, and so on.
Important Design Features for an Online Coffee Store
According to W. Rogers, you never get a second chance to make a good first impression, and we fully agree! That is why we dedicated this chapter to how to sell coffee online successfully: what should be taken into account, what can give your website a feeling of uniqueness and how you can inspire your customers' trust. So, if your intention is to become one of the top online coffee retailers, we recommend that you consider the following ideas:
#1 A clear business concept and appealing to the target audience
Every design concept creation starts with imagining a dialogue with your customers. Whom are you going to address? What do these people care about and what are their priorities? Before starting coffee business online, you should know the tastes of your target audience. Answering this question will give you a clear impression of what direction to choose for the design development.
#2 Light minimalistic or bright catching colors
The first thing most people imagine when hearing about the perfect coffee website are images of lots of beans, bags and cups, and a warm brown hue. However, we recommend you not to get carried away by these typical coffee illustrations, and be moderate while implementing them to the website design. Additionally, you also might want to avoid concentrating only on the color brown for your design. You can use bright color schemes like successful coffee retailers have, such as Dunkin' Donuts, CoffeeDesk, Hello De Mello and many others.
#3 A couple of similar fonts
A general recommendation about font usage for website design is using two or three fonts. Strive to choose the most attractive and decorative one for styling the titles and go for a more simple font for regular text on the webpage. The best solution here is implementing one font family. You might enjoy font families like Farnham and Benton Sans, Futura, Garamond, Century Old Style, Sweet Sans, Chaparral, Proxima Nova, or one of the many others. In our view, the most stylish fonts combination is represented by Quills Coffee, which looks nothing other than classy and professional.
#4 A flat, simple look for your coffee logo
The logo is a cornerstone for every online business. When it comes to the online coffee business, coffee cups or beans are very popular and of course, this is not accidental. Your logo should be easily recognizable and directly reflect what your business is about. Try making some sketches or ask a professional designer to implement your ideas. Perhaps here you can get inspired by some of the stunning coffee logo ideas.
Coffee Stores Themes
Ready-made online coffee store themes can be an excellent option for those taking their first steps in running online coffee business. Equipped with everything necessary to run a fully-fledged e-commerce business, themes also enable you to look inside the industry without requiring a big budget for custom web development. Here are some of the most popular themes used for online coffee store development: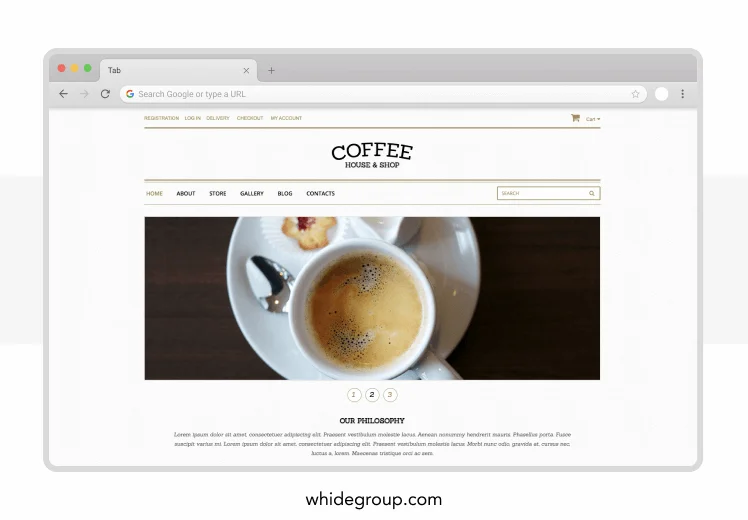 Final Thoughts
Stats claim that coffee consumption will only grow, with market experts expecting the global demand for coffee to expand by 25%, up to 175.8 million grain bags in the next five years. So, if you have the idea of launching your own home business selling coffee – it's time for you to do so! Use proven and reliable technologies like Magento, WooCommerce or Shopify, invest in high-quality coffee, and be attentive to your customers – these are simple but effective pieces of advice to help you to create the best online coffee shop! Have any questions? Drop us a line. We'd love to help you get started!
https://whidegroup.com/wp-content/uploads/Coffeebg2-1.png
292
746
Anton
https://whidegroup.com/wp-content/uploads/whidegroup_logo.png
Anton
2020-02-06 11:05:57
2020-08-14 11:02:55
Let's Discover How to Start an Online Coffee Business
Let's Discover How to Start an Online Coffee Business