A website isn't something you can create then sit back and wait for it to capture leads that bring your business a profit. You need to nurture and care for it to ensure your website will keep doing the job it was made for: turning traffic into sales.
E-commerce is always evolving so to stay on top, your website needs to be in prime condition to run securely, stay relevant, and be healthy. You want search engines to recommend you and once customers are on your site, you want them to have every sense that their transaction and information is safe so they happily type in their card details.
Having our Website Maintenance Checklist on hand keeps you covered from security, to searchability, to technical concerns. We understand the specific needs of e-commerce and have your success in mind.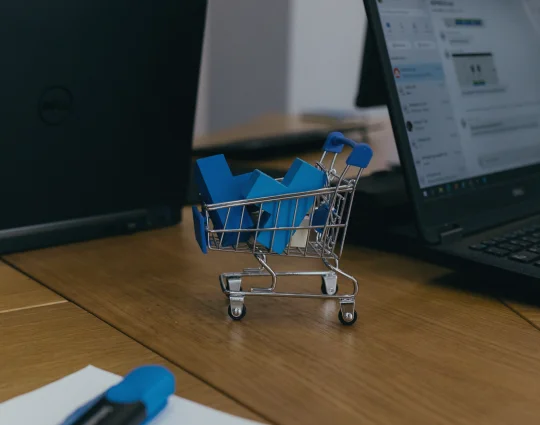 Looking for help?
Take a look at the E-commerce Development Solutions you can add to the list of your website maintenance activities
What is Website Maintenance?
Website maintenance is a set of actions and activities (your maintenance process) that when completed regularly keeps your website up to date, provides trouble-free operation, and puts you ahead of competition. Your website is an essential part of your business, and regardless of your size, maintenance services are very important.
Even the most perfect-looking and expensive website can have issues, glitches, and unexpected behavior. Ongoing maintenance helps identify what's really behind these situations and avoid potential bugs and problems quickly.
What Does Website Maintenance Include?
Website maintenance services cover several important spheres of hosting a business online. From server monitoring to updates of website content – this multi-component set of tasks are essential for attracting and retaining clients. Broken into three main groups, we will dive deeper into each.
Security maintenance
Security is the first thing you have to take care of with an online store. Protection of your website data, customers' personal information, provision of server stability and more, will help your business work effectively and ensure the sense of security your customers are looking for when shopping. Hackers are full of ideas on how to break a company website and use it for self-interest. Let's make it harder for them.
Your website is the face of your business. So when customers land on any page, they have to feel confident to interact with your pages. Ongoing server monitoring, regular backups, installation of core updates and security patches are a few tasks that should be done within the scope of website security maintenance.
Marketing maintenance
Marketing. It's the key to attracting website visitors, converting them to customers, and developing a brand image they'll remember.
We put together a guide to

Marketing is also the key to keeping search engines happy with your website so you continually rank on a page people will actually see. How? To start, by paying enough attention to Google Analytics data and Search Console reports. Using them you can get valuable information not only about the status of your website, but deeply understand customers behavior as well.
Keeping up with this data, helps you create new offers, new messaging, maintain the content people interact with, and update your website with the SEO keywords people are actually using and looking for. Such actions significantly contribute to website rankings in Google search results. And if your website is doing well on Google, it gets higher visibility and more traffic.
Technical maintenance
Technical maintenance can be a complex aspect of website support. It implies taking care of your website from a technical perspective like execution of functionality monitoring, installation of platform and module updates, elimination of functionality compatibility issues within your website, website speed optimization and more things you might need support for.
Any technical issue like slow page loading, broken layout, inability to login or make a payment, affects both website visitors and administrators. Visitors will get frustrated or scared and leave, not likely to come back and administrators will not be able to work efficiently if they can't prepare a report they need to analyze business KPIs, or handle the customers they're supposed to be supporting. All these will interfere with reaching your business goals.
Benefits of Website Maintenance for Your Business
The goal of having an e-commerce website for your business is definitely to make sales. When businesses fall behind on their website maintenance and their site doesn't run smoothly, it can obviously lead to lost sales. As you begin to complete regular website maintenance, you'll know it's worth it by the lack of obstructions in interacting and engaging with your visitors and customers.
#1 Higher security and reliability
Every day customers buy products or services on your website and the transactions are processed. Just like when you're a customer on someone else's website, your customers are putting their trust in you that their personal data is handled properly and their payments are processed securely through your e-commerce platform.
Regular updates and security patch installations, server monitoring, and other regular security activities make data breaches near impossible, stop hackers, and make your website more reliable and safe for customers.
#2 Better user experience and corporate image
Conversions happen when a page communicates its UVP (Unique Value Proposition) efficiently and seamlessly encourages potential customers to complete the page goal. This "communication" is carried out by means of UI/UX and web design, proper messaging, clear navigation and overall impression customers get facing your store.
Statistics show that website visitors form an opinion about your site in just 0.05 seconds. So you only have one chance to engage your customers. Broken layout, low website speed, and inactive links increase bounce rate. In this situation, regular website maintenance allows to minimize such situations, align with people's expectations for a professional e-commerce website, and advance your conversions.
#3 Improved Google rankings
As we already mentioned – Google likes fast, error-free and optimized websites. When properly maintained, your store is:
Considered reliable by search bots
Starts to rank higher for your target keywords
Gets more visibility
Traffic and more potential customers
In combination with high-converting design and clear value proposition, your store increases chances to convert a website visitor.
#4 Aligning with trends
To increase customer engagement and loyalty, you need to react to changes in customer behavior quickly and utilize modern trends in your business in the most efficient way. This approach allows you to provide unique offerings and make customers feel special, leading to more sales, higher conversion rates, and customer loyalty.
Having a technical team that regularly supports and improves your website, like the Whidegroup, makes this task easy to manage.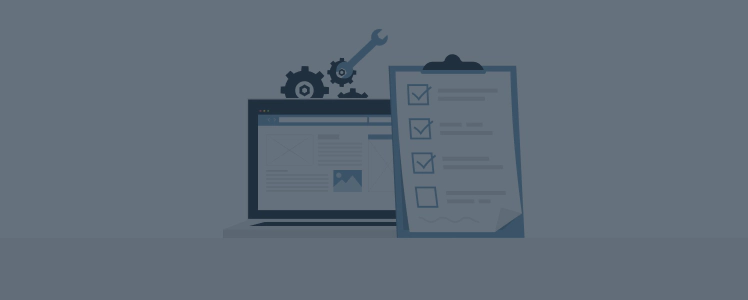 A Step-by-Step E-commerce Website Maintenance Checklist
Maintaining a website can seem overwhelming. To simplify this process for you, we have prepared a step-by-step checklist describing all tasks to perform from daily to yearly in order to make your website successful and profitable.
Daily Maintenance Checklist
#1 Perform visual inspection
This is the first and the simplest step in the daily routine of an e-commerce manager contributing to smooth website operation. Just visit your e-commerce website, browse through the main pages of the store, and try to perform the steps done by an average customer on the way to making a purchase. It will help you identify the most obvious errors and catch potential issues.
It is better to make sure everything works properly than fix problems urgently on the go.
#2 Reply to contact form requests
When potential customers are interested in buying an item, but have a question, they want an answer as soon as possible, or you risk them losing interest and moving on. So pay attention to replying to contact form requests on time. You can do this manually or use any of the available customer service requests management (CSRM) solutions like Zendesk, Freshdesk, Help Scout and others.
#3 Backup your site
Regular backups are essential for the security and stable operation of your e-commerce platform. Actively developing e-commerce stores have lots of content and data that would be too costly to lose making daily back-ups necessary to quickly recover all the information with minimum loss in case of any threat. Good news is manual backups are a thing of the past. Automatic backup processes are set up by professional server administrators for you.
Note! Your backups should be stored separately from the website and have limited access.
#4 Check the uptime logs
The e-commerce store should be available for customers 24/7. The only exclusion is scheduled maintenance activities made out of the peak hours. As a business owner you have to be sure your customers can place their orders anytime they want. Ongoing server monitoring will check the uptime logs for your business and it is the responsibility of the server administrator to set up monitoring and alerts for any issues. If the uptime of your store is repeatedly below 99.9%, you should contact the site host for a permanent fix. If they can't provide the solution, consider an alternative hosting provider.
Weekly Maintenance Checklist
#5 Test order process
The most important action on an e-commerce website is the ability of a customer to reach and successfully pass the checkout. Test the Add to Cart button on all pages it is located on – homepage, category, product, landing pages – add products to your shopping cart and proceed to checkout. Check if all the fields on a checkout perform the proper logic – validation works right, there are no unknown errors, no loading issues, etc. Try to complete your purchase using the most popular payment methods and with an active coupon code. If everything works as you expect it, you can concentrate on other more strategic aspects of your business.
Convert shoppers efficiently with these

#6 Moderate comments
If you have a blog on your website, you've probably seen a string of comments that are spam offers and messages. The most efficient way to process these comments is to use anti-spam modules or plugins available for a wide range of platforms. You can choose the one that suits your needs best and will cut your involvement to once per week approving comments from real people and checking if the plugin didn't flag a real comment as spam. It's great to see engagement on your blog from real people and stating the blog is monitored by anti-spam will help protect you and your community.
#7 Make updates (for technical specialists only)
If you want to keep your website properly functioning, prompt installation of updates is a must. Security patches, core, plugins, and theme updates are released regularly. In order to ensure high security standards of your store and simplify functionality updates in future, you have to perform these tasks on an ongoing basis.
Take a note that such actions have to be done by professionals – developers and QA specialists. Each update has to be tested in a staging environment first before applying it to the live website. This will eliminate compatibility issues and provide trouble-free operation of your e-commerce store.
#8 Fix broken links and 404 errors
When visitors follow links to your website from external resources or from your site to external websites they expect to see some content once they get to that page. If links are broken, it influences both user experience and your SEO. If you insert a broken link on your page, customers get frustrated seeing nothing in the result. Google also stops indexing these pages and considers them suspicious and low quality, so people can't reach them.
In case you have links pointing to content on your store that were removed or relocated without proper redirects in place, you lose visitors when they get a 404 error and you can lose sales. A highly critical issue for e-commerce stores. Pay attention to Google Search Console reports or use other instruments like SEMRush, to either fix broken links on your website or redirect the traffic from your 404 pages to live pages like similar products.
Monthly Website Maintenance Checklist
#9 Measure your website performance
Regular reporting and analytics is the easiest way to understand what is happening with your website and notice potential issues. Use Google Analytics at least once per month to see how well your store converts at different levels of the sales funnel, track changes in website traffic and its sources, analyze bounce and conversion rates, and define the bottlenecks in your user acquisition strategy.
Comparing the most important metrics to previous months or years helps to detect problem areas, make conclusions, and take actions if needed. You can set up alerts for specific events in Google Analytics, like decline in conversion rates, high bounce rates that may be a signal of a page problem, unusual spikes in visits that can tell about hacker attempts, and more. Properly chosen metrics will help you make the right business decisions.
#10 Check your website speed
You've probably already heard about the importance of website speed numerous times. That is not surprising as speed influences customer experience, which impacts user session, average number of pages per visit, bounce rates, and your sales. Website speed also significantly influences your SEO and rankings.
Making any changes to your e-commerce platform can influence the overall loading speed of your store, so it is necessary to regularly monitor it. Checking it once per month is a good maintenance frequency, though you can decide to do it weekly or quarterly depending on how actively you are making changes to your website. You can use Google PageSpeed Insights tool to test your desktop and mobile results. If your store isn't fast enough, check Google suggestions and don't wait too long to make fixes.
This is how you can win more sales

#11 Verify backups
Making regular backups as suggested on the Daily Maintenance Checklist is just a part of success. Another is to ensure your backups are done right and include all necessary information to restore the website in case of some unexpected situation. A professional website maintenance team holds the responsibility here. An administrator makes sure backups are done regularly, and then restores them in a separate staging environment. QA then can make all necessary tests to check if the restored version of the website consists of all the latest and important data. All these actions do not affect the live website or main staging environment for development. Verifying backups once per month makes you feel confident that you don't need to restore your pages from scratch some day.
Quarterly Maintenance Checklist
#12 Analyze strategic business KPIs
Key Performance Indicators (KPIs) are values that help to estimate how your business is performing. Properly chosen KPIs act like a compass showing whether your business goes in the right direction. Some of the important KPIs for e-commerce to track are:
Customer Acquisition Cost
Average Order Value
Customer Lifetime Value
Cart Abandonment Rate
Product Return Rate
And, of course, Conversion Rate
Diversify this list with KPIs important exactly for your industry, business model, and type of customers. Monitor these values, compare them with previous periods to make proper conclusions about improvements that can truly drive your business forward.
It's time to plan and implement
#13 Do the SEO check
Search Engine Optimization or SEO is important for any website, and an e-commerce store is no exception. It helps search engines (like Google) understand which sites have to rank highly in search results depending on the question users typed into their platform. That's why you can increase the visibility of your store in search results by increasing SEO activities. During an SEO audit:
Run an on-page and off-page technical SEO audit
Refresh your Sitemap(s) if needed
Review Google Search Console reports
Fix 404 errors and broken links
Check your internal and external linking
Set proper redirects, if needed
Optimize images
Check page titles, descriptions, image alt tags etc, if they are effective as possible
Reviewing the current state of your store is essential to understand how to adjust your strategy for reaching your business goals. Sometimes implementation of even minor SEO tips and tricks can help you improve your store rankings.
#14 Validate your site
In this context validation means ensuring your website conforms with well-known web norms and standards. It is important because the web pages aligned with standards will be interpreted in the way you want them. Crawlers – programs that visit websites and read the pages to build an index for search results, will see content you want to be seen, mobile customer experience will be complete, people with disabilities will be able to interact with your store, and more. A wider range of people will be able to reach your website. So make sure your e-commerce store:
Aligns with markup and CSS standards
Corresponds to Mobile Web best practices
Checking this data quarterly allows you to find and correct problems promptly. This will advance the likeability of your website by search engines, improve your rankings, and, as a result, will give more opportunities for your e-commerce store to make sales.
#15 Conduct a full website audit
It is necessary to examine various aspects of your website in detail, both from a visual and technical point of view to understand what can be improved.
Get testing and QA services done – get your support team to test website on different browsers, check if all functionality works well, automated messages are sent on time, and more
Revise your offering, CTAs, visuals – product images, banners, etc.
Complete a content audit – check product descriptions, blog posts, informational pages like About Us, FAQs, Terms and Conditions, etc.
These activities make a great contribution to the trouble-free customer experience in your store allowing users to understand your value proposition, navigate your website properly, and buy what they want.
Some of the trending methods that help to

#16 Automate your business processes
This point is aimed at optimization and simplification of routine tasks performed frequently. Ask your team what tasks they have to do regularly. Consult with the project manager (PM) or a business analyst (BA) of your project if it can be automated. Usually it is possible to develop a technical solution that converts manual tasks to automatic execution.
Yearly Maintenance Checklist
#17 Review your overall web strategy (with BA or PM)
With the results of a website audit, analysis of your yearly KPIs, and considering the goals for your upcoming periods, you can decide:
If your current web strategy aligns with your business goals
What aspects of your business may act as limitations in reaching your goals
Whether you should consider multichannel e-commerce strategy implementation
If your current CMS meet your needs
Whether you are satisfied with your website design or not
Is there a need to change your hosting, and more
These are the right questions to ask yourself before setting your next year goals and objectives. Maybe there is a need to make a global transformation of your business or simply adjust some aspects of your marketing strategy.
Professional e-commerce business analyst or a project manager working on your project has the knowledge required to assist you here in the most efficient way.
#18 Audit your plugins
To be honest – we hardly imagine an e-commerce website not using any plugin or extension. They are a great way to enhance your website with custom functionality. At the same time, any ready third-party solution integrated with your website can potentially threaten its security and influence website speed.
So we recommend you audit your plugins once a year to decide whether your online store still gets benefits from each active plugin. If there are no obvious advantages of the used extension or there are more reliable solutions available on the market now, consider deleting, deactivating, or switching it.
#19 Renew website domain name and SSL certificate
Is there anything more essential than a domain name for a website? Definitely, not. So your responsibility is to ensure you renew the domain name in advance allowing your customers to access your store 24/7/365. SSL renewal is also very important. It makes your website more secure in visitors' and search engines' eyes. Usually a domain registrar sends an email notifying about the expiration date, so there is a small chance you can overlook this step. That's why we recommend setting a reminder both for domain and SSL certificates renewal.
#20 Update copyright
One of the important changes a business owner should make to the website, but one that is often forgotten is a copyright date update. Information theft is widespread on the internet, so copywriting content on your website provides a certain level of protection.
How to Maintain an E-commerce Website?
As you can see from the checklist we offer, e-commerce website maintenance includes a large number of different niche tasks. If not properly executed, they can cause serious problems with your business and move you a step back from potential growth. You definitely need a team of qualified experts who will support you on this journey. Here are a few options you can choose from to maintain your website efficiently.
Hire a company
Hiring a development company to support your website is a smart choice because it guarantees you will be working with a team of industry experts responsible for the final result. A business analyst or a project manager assigned to your project takes a look at your website from the perspective of the best industry standards and can point out the most important aspects to focus on.
Web development companies usually offer a few e-commerce website maintenance packages you can choose from depending on your budget. They can also tailor an individual package depending on your business needs. In such a case you have control over your expenses, have a single point of contact to monitor progress, and can focus on the business side of your e-commerce.
Hire a consultant
You can decide to work with an independent e-commerce consultant who has previously worked with a large number of e-commerce businesses. They can make up a proper website maintenance plan based on their experience in the industry. It will include mandatory tasks that can help your website work at a maximum capacity.
The consultant will likely become your single point of contact and handle all relationships related to hiring technical specialists, assigning tasks and monitoring their progress. The issues you may have in such a case is the inability to control the level of specialists hired and plan your expenses ahead of time. Open communication and understanding are important to set up in this case.
Hire a freelancer/team of freelancers
If you have a decent technical expertise, hiring an independent freelancer or a team of freelancers can be a good solution for you. Knowing your business like no one else you will be able to decide on your e-commerce maintenance plan and find relevant experts to work in accordance with it.
In such a case you have full control over expenses and technical level of specialists that work with you. But an advantage and a disadvantage at the same time is your tight involvement in the process. On the one hand, you are always aware about the state of your website, but on the other side – there is less time to focus on more strategic tasks of your business development.
If you want to run a successful business, staying up to date with current trends and news in e-commerce is a must. For this purpose we advise following popular e-commerce blogs for online retailers and get updates on a regular basis. Running a niche business you may also want to:
Website Maintenance Pricing
How much should I pay someone to maintain my website? This is the question that obviously arises for every business owner. Website maintenance pricing depends much on the technologies used to develop a website, complexity of a website structure and its functionality. The larger the business is, the more complex the platform, technologies and integrations are used for its development. So we offer taking a look at e-commerce maintenance costs from the perspective of a business size.
Website maintenance pricing breakdown*
Expense items
A small business
A medium-sized company
A large company
A small business
$50-100/year
A medium-sized company
$100-$500/year
A large company
$500+/year
Expense items
Domain name
A small business
$10-$400/year
A medium-sized company
$10-$400/year
A large company
$10-$400/year
Expense items
SSL certificate
A small business
$50-$300/year
A medium-sized company
$50-$300/year
A large company
$50-$300/year
Expense items
Website monitoring and audit
A small business
$500-$2000/year
A medium-sized company
$3000/year
A large company
$5000/year
Expense items
Platform updates
A small business
$500-$1000/year
A medium-sized company
$1000+/year
A large company
$1500+/year
Expense items
Modules update
A small business
$200+/year
A medium-sized company
$500+/year
A large company
$1000+/year
Expense items
Design tweaks
A small business
$1000+/year
A medium-sized company
$1500+/year
A large company
$2500+/year
Expense items
New features development
A small business
$1000+/year
A medium-sized company
$4000+/year
A large company
$6000+/year
Expense items
QA and testing
A small business
$1500+/year
A medium-sized company
$2000+/year
A large company
$2500+/year
Expense items
Urgent help and bug fixing
A small business
$1000+/year
A medium-sized company
$1500+/year
A large company
$2000+/year
Expense items
Performance optimization
A small business
$500+/year
A medium-sized company
$1000+/year
A large company
$1500+/year
Expense items
SEO checks and fixes
A small business
$500-$1000+/year
A medium-sized company
$2000+/year
A large company
$3000+/year
*Costs described are average in the industry and may vary.
E-commerce maintenance packages
You can optimize your website maintenance costs opting for an e-commerce maintenance package available from any professional web development company. It includes a fixed set of activities to provide trouble-free and stable work of your e-commerce website. And usually these packages are more cost efficient when compared to tasks executed on an hourly basis. Make a considered choice that will work best for your business.
Final Thoughts
Website maintenance is a vital part of running a successful e-commerce business. It includes a wide range of tasks and activities that contribute to smooth operation of your store. Website maintenance may seem overwhelming, but with proper planning and reliable maintenance service provider, it's not as daunting as it looks.
Regular website support and maintenance improves your security and user experience that helps you to rank higher in search results. Higher positions in search bring you more traffic, better user experience provides higher chances to convert website visitors into customers, and as a result you make more sales. Isn't it what every e-commerce entrepreneur dreams about?
Take website maintenance and the choice of a support team seriously as it can give your business tremendous results. Ask yourself honestly if you do your best at keeping your website health on top. In case you want to get a consultation from an industry expert, make an audit of your website and decide on a proper maintenance strategy for your website, feel free to contact us anytime.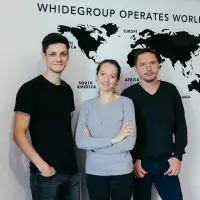 Looking for help?
Contact a specialist from the Whidegroup team to get the maximum results from maintaining your website for your business.
https://whidegroup.com/wp-content/uploads/website-maintetance-checklist-small.webp
300
772
Anastasia Zhuk
https://whidegroup.com/wp-content/uploads/whidegroup_logo.png
Anastasia Zhuk
2021-08-23 15:03:55
2023-02-15 14:16:11
Website Maintenance Checklist: 20 Daily to Yearly Tasks for E-commerce Businesses
Website Maintenance Checklist: 20 Daily to Yearly Tasks for E-commerce Businesses