Payment gateways for online checkout are an integral part of any online store. Since payment gateways are part of payment processing, having a good reputation, reliability, and simplicity are essential to their success.
In this article we will discuss how to choose a reliable payment gateway for your e-commerce business.
What is an Online Payment Gateway? And How Does It Work?
A payment gateway is merely the software intended to deliver transactional data to the acquiring bank and retrieving responses from the issuing bank on whether a transaction was approved or declined. Essentially, Payment Gateways facilitate communication between banks.
Right after a user clicks the "Order" button, your website will ask them to enter their card details. This is the process that follows:
The customer's browser thoroughly encrypts the information and sends it to the merchant's server. The merchant's server sends the transaction details to the payment gateway, which forwards this information to the merchant's bank payment processor;
The payment processor sends the transaction's information to the card association, which then transmits the transaction to the card-issuing bank. The latter one receives the authorization request and then sends a response back to the processor with a response code that denotes if it is approved or denied;
The credit card issuer holds the authorization associated with that merchant and consumer for the approved amount;
The processor forwards the authorization response to the payment gateway, which receives it and then forwards it to the website where it is interpreted as a relevant response. Next it goes to the cardholder and merchant (this process is widely known as the Authorization or simply "Auth" and typically takes 2 or 3 seconds);
The merchant then fulfills the order and submits all previously approved authorizations in a so called "batch" to the acquiring bank at the end of the day, for settlement via its processor;
The acquiring bank makes the batch settlement request of the credit issuer, which makes a settlement payment to the acquiring bank. The acquiring bank subsequently deposits the total of the approved funds to the merchant's nominated account. Typically, the entire process from A to Z takes 3 days.
Every merchant falls under the PCI DSS, a government regulation standard containing a series of security requirements that every merchant must follow to be in compliance. However, the majority of e-commerce websites don't store credit card data. Rather, they use third party payment service providers like PayPal or Stripe to handle card information more securely. The merchants still need to be PCI DSS compliant, but the requirements aren't as numerous compared to merchants who store credit card data.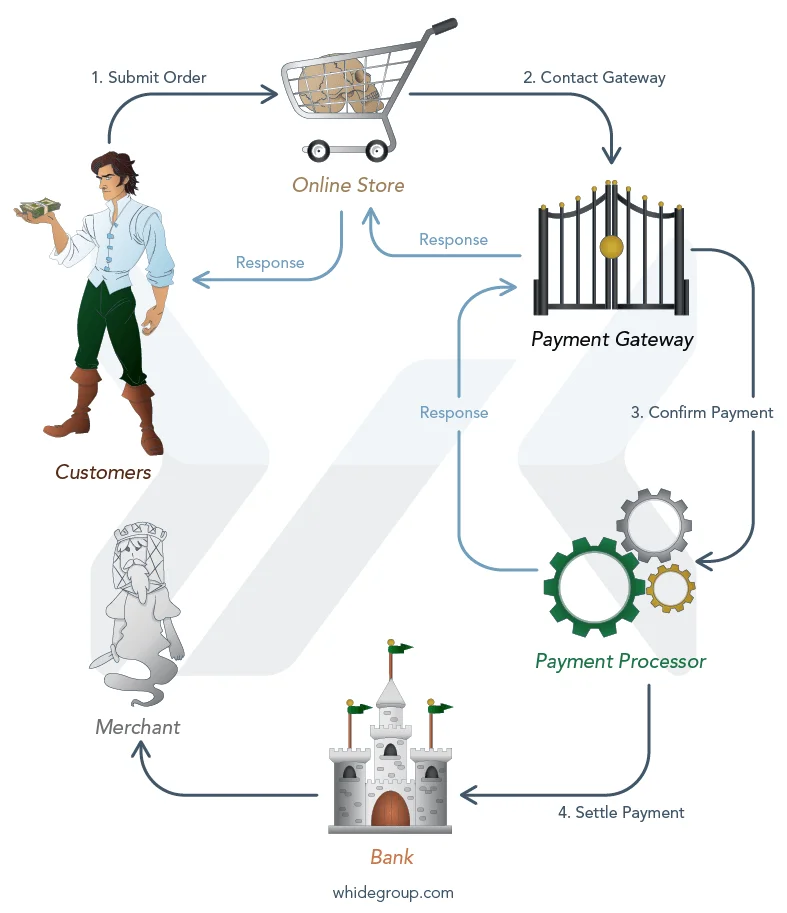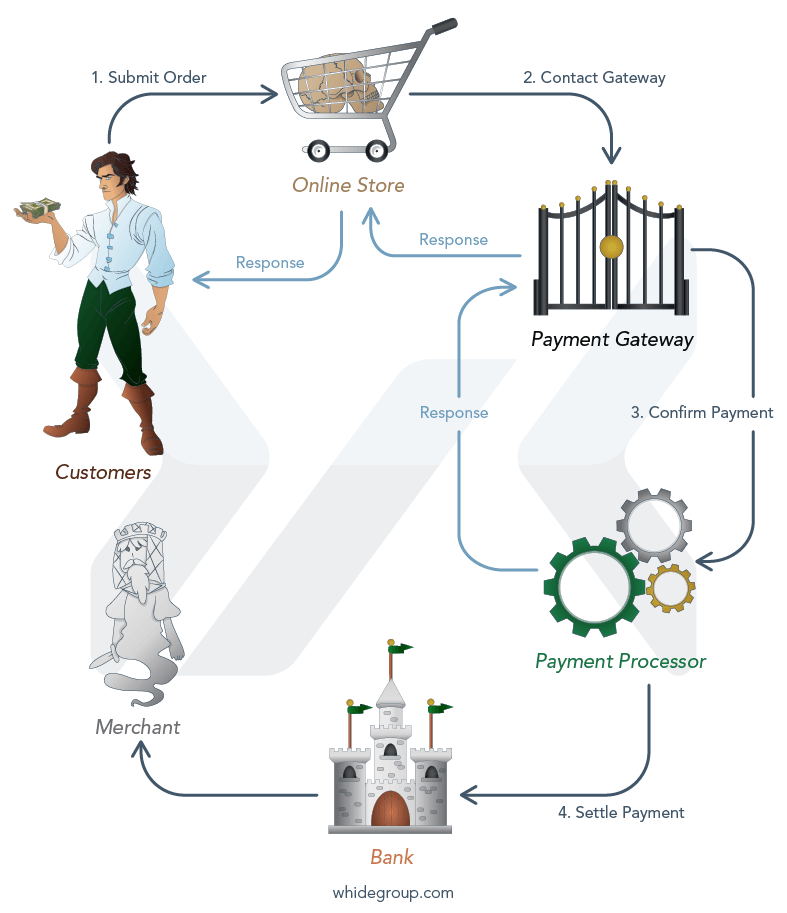 Payment Gateway and Checkout User Experience
UX for e-commerce websites is not limited to commonly known components such as easy-to-use navigation, clean design, helpful site search, and so on. In addition to the elements listed above, it includes such components as user checkout experience. Payment is the final action that a customer takes in your online store. Consider that is may also be the final step in the user journey that motivates your customer to come back to your store. Likewise, it may discourage them from ever purchasing in your store again!
Your choice of payment gateway and how that gateway and its options are presented on your store will have a significant influence on the user experience of your customers. Choose well, and you'll have more customers. Choose poorly, and you can easily guess the consequences.
Let's take a look at which payment gateway features you can include in your online store that can significantly affect your customers' user experience in a positive way:
Include familiar elements at the checkout, such as a progress bar and a call-to-action button. These will make the user feel more comfortable and enjoy a hassle-free buying experience;
Provide shoppers with an onsite payment option;
Avoid usage of popups (also known as modal windows) – as it may result in poor user experience. In fact, most users actually leave the checkout at this step rather than completing their purchase;
Optimize and reduce the amount of steps on the your e-commerce website from registration to checkout – nobody likes a long and intricate journey during their online shopping experience;
What Payment Gateways Do Online Stores Use?
According to Spreedly, the list of the most popular payment gateways looks like this: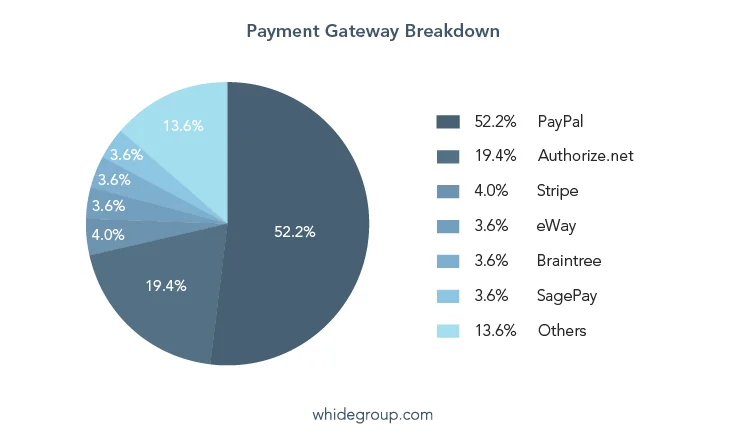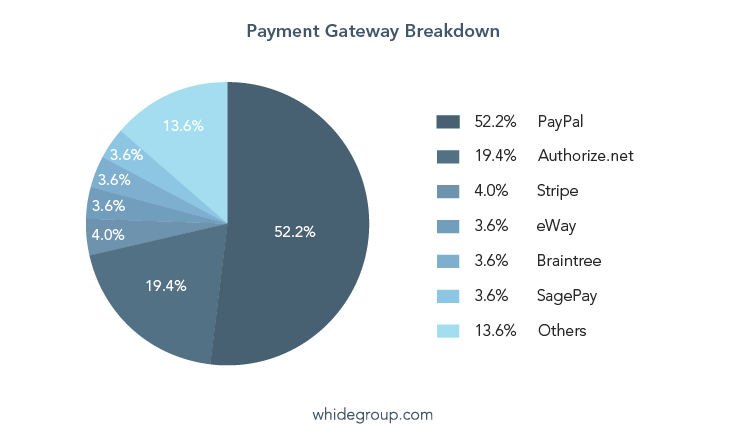 Integrated or Hosted?
Now it's time to decide whether to use a built-in service or a hosted provider. Each option has its pros and cons, so take some consideration before deciding which is best for your e-store.
Integrated gateways allow users to stay on your website through the entire checkout process. Thus, the user inputs their credit card details directly on your website. Such built-in gateways significantly increase the opportunity to deliver a positive user experience, though they do require SSL certificate implementation.
Online stores that use hosted gateways redirect users to an outside page where they are meant to input their credit card information. After the user processes their transaction on the gateway-hosted payment page, they are then redirected back to your online store. After this, a confirmation page is displayed to the buyer, indicating whether the transaction was approved or declined.
The main advantage of a hosted gateway application is the lack of necessity to setup and install the SSL certificate, since the process is performed outside your website. On the other hand, hosted gateways are rarely trusted by most users, so they may be responsible for creating a bad user experience.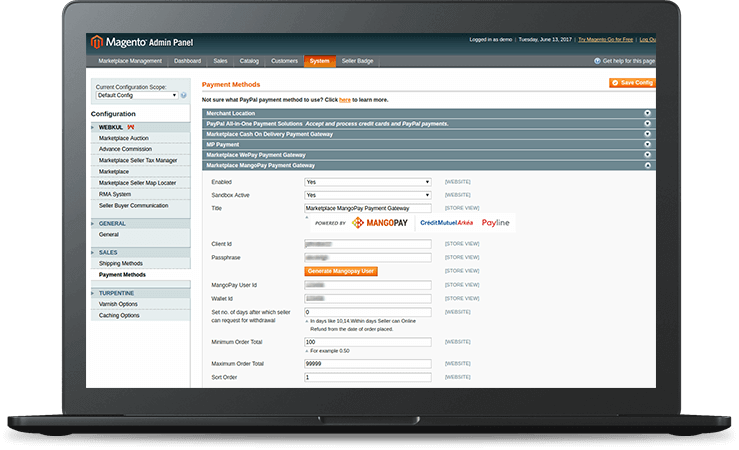 Cost Issue
It won't be a surprise to you as a business owner that any party involved with helping transactions wants to be paid: the issuing bank, the credit card associations (Visa, MasterCard, etc.), the merchant bank and the payment provider. Payment gateways, as well as merchant accounts, charge businesses various fees including monthly charges, fixed fees per transaction, variable commissions based on the percentage of transaction amounts, and extra fees such as chargebacks, international payments, etc.
To address this issue in the most advantageous way, we advise you to visit PaymentBrain – an international comparison service that will provide you with a comprehensive overview of every possible fee. Moreover, PaymentBrain gives you the opportunity to learn a complete schedule of charges before choosing any particular provider.
We're Whidegroup
We develop optimized
e-commerce stores.
Integration with an E-commerce Platform
Depending on your e-commerce platform, you can use a wide variety of off-the-shelf plugins and extensions offered by your platform. They will help you integrate your store with some of the major payment gateways.
In order to perform a successful payment gateway integration, you must have a bank account attached to the gateway. Commonly known as a "merchant account," this bank account must be authorized to accept funds (a regular bank account may not work for this). Soon after the merchant account is approved, you'll need to find the right payment gateway to use.
Once you have selected your gateway, we'll follow a specific setup process to add it to your store. It can be done in a pretty simple way with a plugin/add-on, or it may require some custom development. Right after the actual integration is done, testing will be performed by our QA-engineer to ensure the gateway is properly accepting funds and working well with your CMS. We will also check the PCI DSS compliance in order to ensure the chosen gateway is completely secure and doesn't display credit card information.
Finally, after testing is completed, your gateway is ready to use, able to accept payments from customers, and mark their orders as ready to fulfill on your end.
Some Features of the Most Popular Payment Gateways
PayPal
Authorize.net
Stripe
Braintree
2Checkout
PayPal
$10,000 per transaction
Authorize.ne
Defined by user
Lastly, with regards to our experience in the payment gateway implementation area, we work mostly with PayPal, Stripe, Klarna, and SagePay. The most popular two programs are PayPal and Stripe, and we can easily integrate any chosen payment gateway provider with your online store.
Choosing a payment gateway provider for your online store is a crucial part of the whole pre-launch process. Once ready to accept payments, you can go full speed ahead towards launch.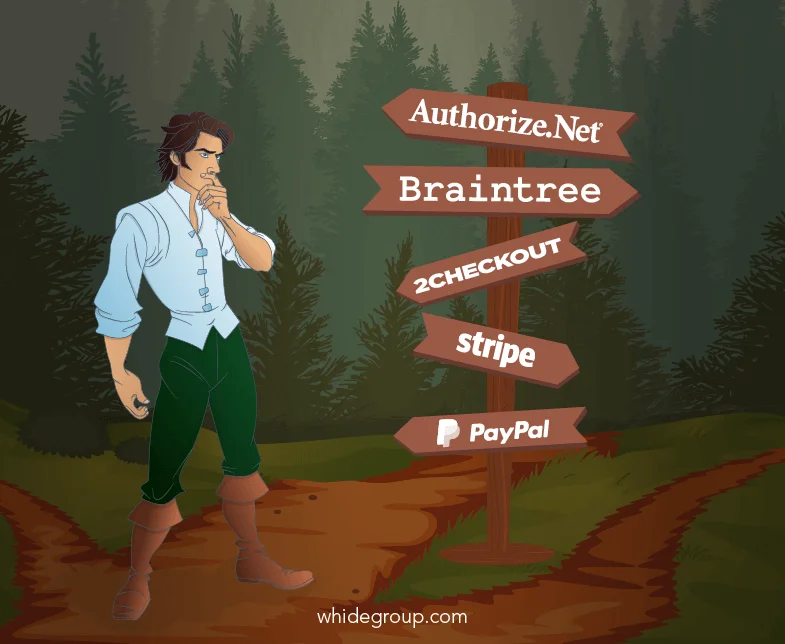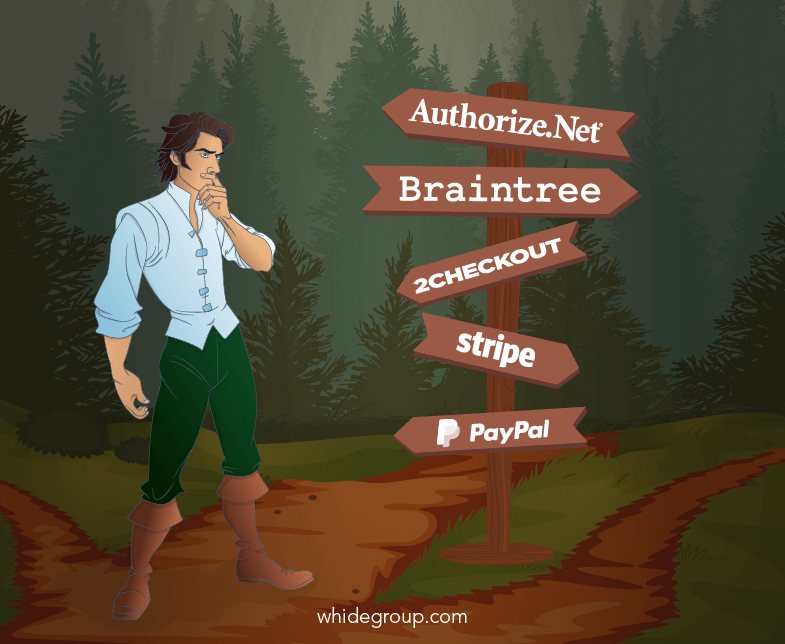 https://whidegroup.com/wp-content/uploads/Payment-Gateway-list-1.png
292
746
mary
https://whidegroup.com/wp-content/uploads/whidegroup_logo.png
mary
2018-03-23 11:28:15
2020-01-24 16:33:38
How to Choose a Payment Gateway for Your Online Store
How to Choose a Payment Gateway for Your Online Store