The brand that gives you wings is estimated at $10.4 billion according to Forbes and is present in 171 countries today. However, this brand never rests on its laurels – it not only continues to command the field, but conquers new markets, creates new kinds of activities, and travels the world, leaving all its closest competitors far behind. You guessed it right – we're talking about Red Bull, and today we'll do a Red Bull business analysis to reveal its secrets to you.
Do you know how to keep your website up and running 24/7? Learn every step you need to take to successfully maintain your website and make use of our
Website Maintenance Checklist
!
Some History of the Brand
If we don't create the market, it doesn't exist.Dietrich Mateschitz, Red Bull's founder.
Long ago, in 1982, Austrian businessman, Dietrich Mateschitz, found himself suffering from jet lag during his business trip to Thailand. He was advised to try a local drink – Krating Daeng, which improved his former lack of vigor substantially! Inspired by the magical qualities of the product, Mateschitz decided to bring the product home in the format of a brand new product category – the energy drink.
In order to adapt the formula and flavor for the European market, Dietrich began to cooperate with TC Pharmaceutical, Krating Daeng's manufacturer. The new product was successfully launched in 1987 as a soda beverage, and in just five years, the drink became a global player. In 2008 Red Bull made its founder one of the richest people in the world according to Forbes. Interested in knowing what happened in between? Let's unlock the secrets of the Red Bull business model together!
How Drinks are Produced
Disclaimer: No bulls were harmed during the manufacturing of this drink!
Red Bull is manufactured in various locations, depending on the geographies and cultures it is catering. Countries have varying regulations regarding caffeine, sugar, and additives per liter, so Red Bull must adjust accordingly.
Red Bull consists of the following ingredients:
Caffeine – Caffeine is known for its stimulating effect on psychological and physiological functions. Did you know that the amount of caffeine in one Red Bull matches the amount of caffeine in one cup (250 ml) of coffee?
Taurine – Taurine is an amino acid which is naturally occurring in the human body. It is found in high concentrations in muscle, brain, heart, and blood. Taurine is also contained in different foodstuffs like scallops, fish, poultry, and baby food.
Glucuronolactone – Glucuronolactone is a metabolite of glucose naturally occurring in the human body.
B-group vitamins – The B vitamins contained in Red Bull are B6 and B12. These vitamins are thought to support mental and physical performance.
Sucrose & glucose – The combination of sucrose and glucose gives you both instant and longer lasting energy.
Alpine spring water – The water used for Red Bull is fresh alpine water of the best quality, which comes from springs nearby the production sites in Austria and Switzerland.
Aluminum is used to pack the ready drink. The company is justifiably proud of their modern cans since they are 60% lighter than a decade ago, thus making them easy to be carried and transported. Not to mention, aluminium cans are virtually unbreakable! Their durability is not only useful for transport, it also makes them safe and convenient for activities and events.
Beverage cans are also ideal for transportation and stocking. Thanks to their compact and efficient form, they use about 40% less transport space than glass bottles and 30% less than PET bottles.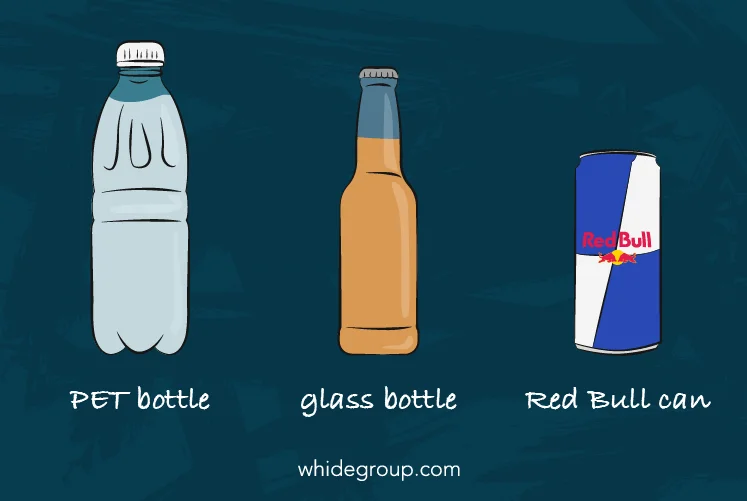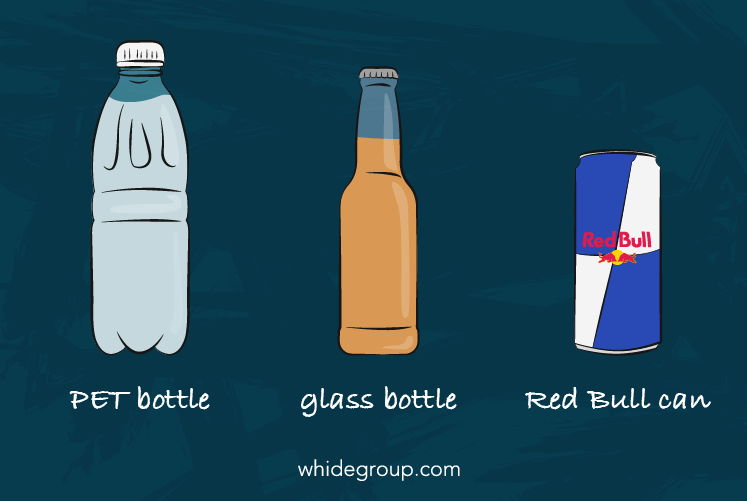 Red Bull practices a so-called wall-to-wall production – this means their cans are fully recyclable, and in such way that not a single gram of aluminium is wasted. This wall-to-wall production saves more than 5,313 tons of CO2 emissions each year.
Distribution Channels
As soon as the Red Bull cans are filled, they're transported from Austria and Switzerland to 171 countries worldwide. The cans travel long distances, whenever possible by ship and rail. Transportation by truck is considered the last resort, used only when there's no other means of delivery.
Customer Segments Served by Red Bull
The success of any product strongly depends on its customers. Like any successful company, Red Bull aspires to hit the right customer in the right manner. According to recent studies, a portrait of the target Red Bull audience looks as follows: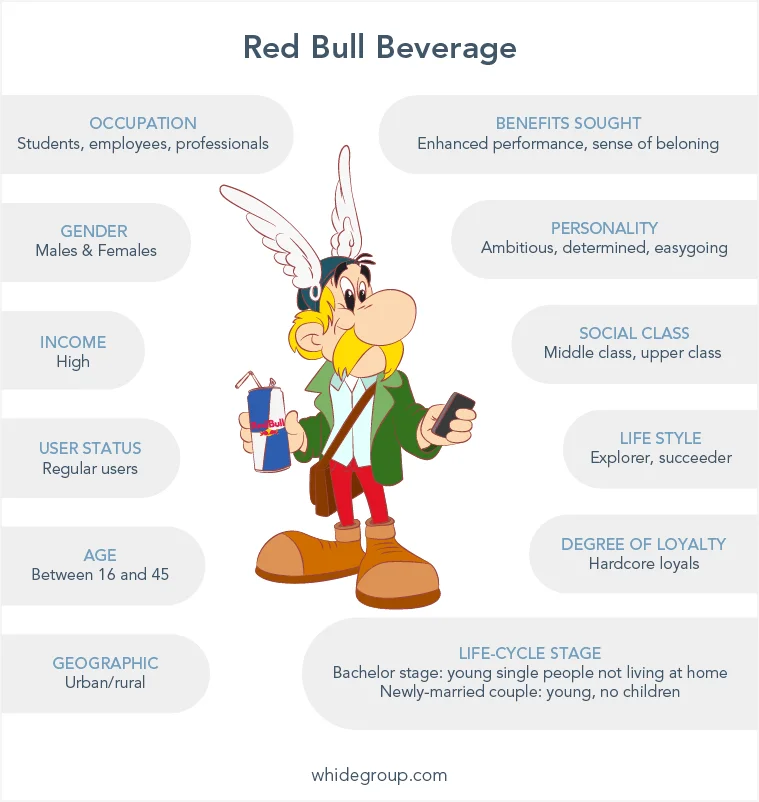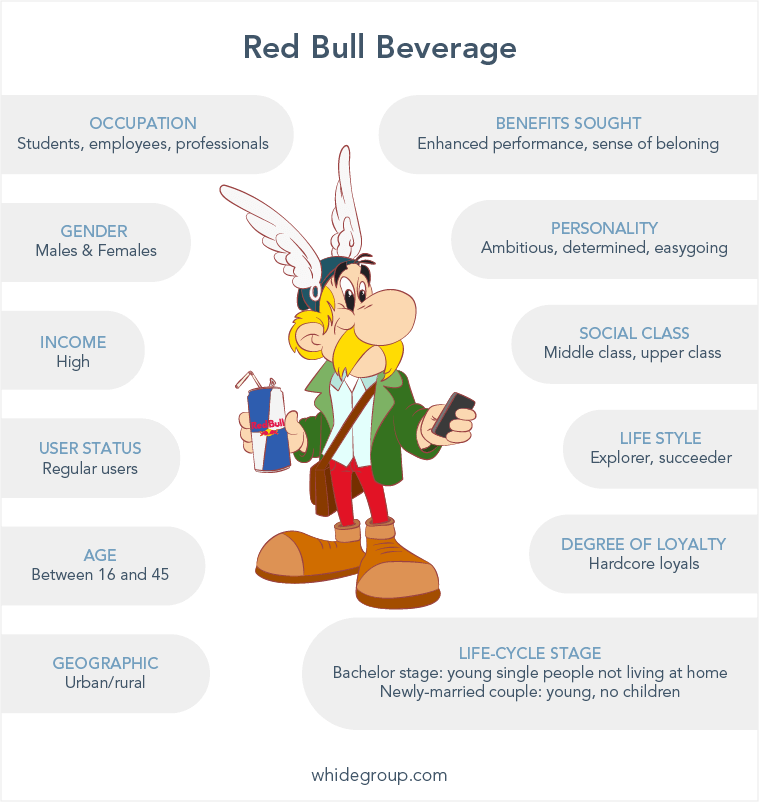 Marketing Strategy
Red Bull's CEO, Dietrich Mateschitz, was a salesperson before establishing Red Bull. He knew well what to do to attract customer attention. Creative and persistent, he didn't care about the usual methods of marketing. Instead the company relied on a highly ingenious "buzz-marketing" strategy, or word-of-mouth.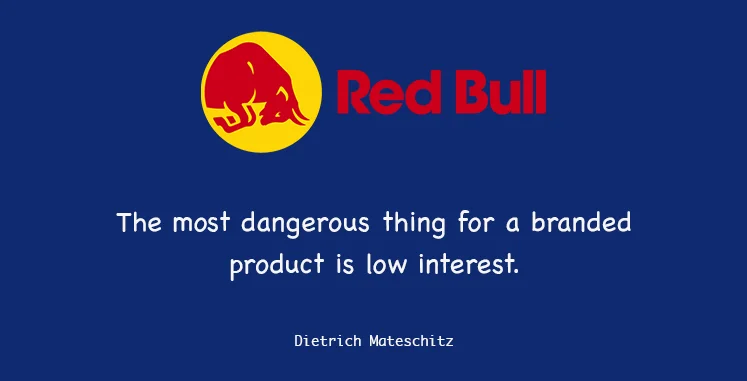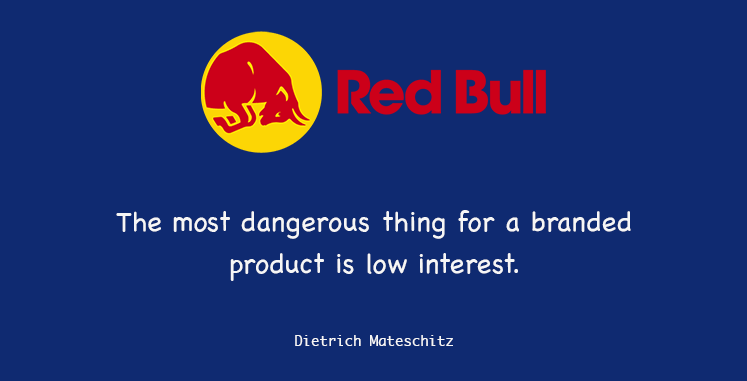 On completing the buzz-marketing strategy successfully in Europe, Red Bull decided to replicate it while conquering the US market. Volkswagen Beetles with larger-than-life Red Bull cans strapped to their backs showed up at beaches, at colleges, gyms, and even office buildings with free samples. Friendly Red Bull salespeople (so-called "Musketeers") offered free coolers to bars, and soon bartenders learned that this new drink was a money machine. You've no doubt at least once tasted a Red Bull mixed with vodka or Jager, since the mixes became two of the most popular drinks in bars everywhere. Soon the beverage was flowing across the United States and the Red Bull competitive advantage was undisputed.
It's really hard to imagine a student party without several packs of Red Bull on hand, since the company once actively made use of "student brand managers" in their congenial marketing strategy. Brand managers were popular university students encouraged to promote Red Bull on university campuses and to throw parties at different locations, supplied entirely by Red Bull. These chosen students were given enough Red Bull to be tied on the top of their cars for the drive back to school, where the cases of Red Bull would be distributed. The parties were normally thrown in unusual locations, designed to bring inquisitive minds and, of course, more party goers. Soon older crowds caught onto the idea and Red Bull was promptly sold at nightclubs and festivals around the world.
Today, the company also utilizes "Red Bull Girls" to hand out free drinks to college students. This strategy has been a clear victory, resulting in a rapid increase in sales. After cramming for an exam, students realized that a can of Red Bull can help keep their focus all night.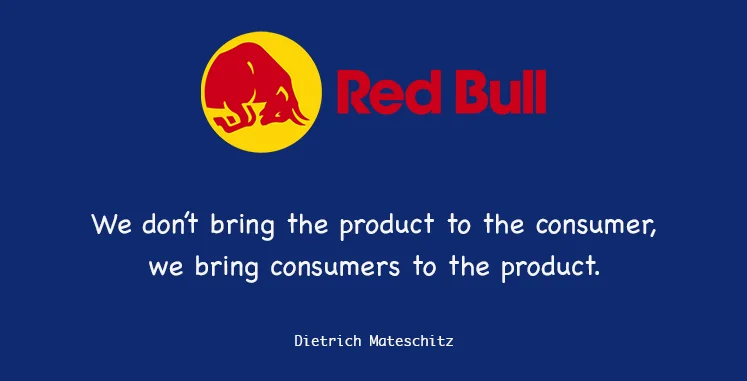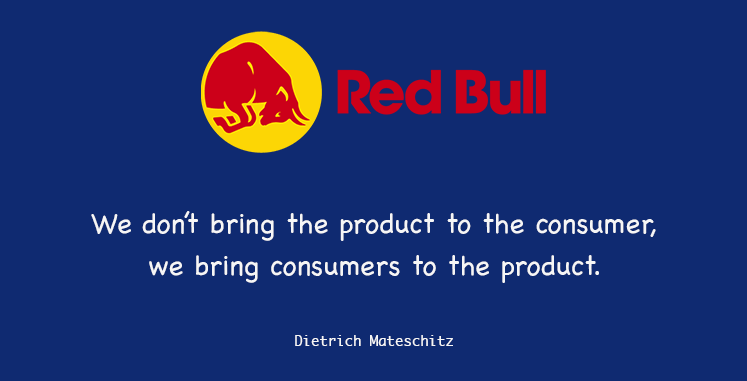 Red Bull is also represented in the music arena, owing to Red Bull Media House. They collaborate with many well-known artists, one of which is Awolnation. In addition to the music industry, Media House is responsible for Red Bull TV Online, Red Bull Radio, and numerous other projects and products.
The US marketing buzz, in part driven by the Red Bull can cars, spun tales that were picked up by the press. Red Bull's slogan "gives you wings" led newspaper reporters to print quotes from consumers like "You can get drunk and stay wide awake," or even, albeit probably less desirable, "It's the poor man's cocaine."
Red Bull is very well known for its crazy sports and entertainment marketing strategies, targeting young urban professionals. Their sponsorships and participation in extreme sporting events are widely recognized. They also broadcast their events online and on cable TV. No doubt, you've heard about their football teams or watched Flugtag – maybe you even took part in it!
It is also likely you've heard of the Red Bull Formula 1 race team – Aston Martin Red Bull Racing. To date, it is at 6th place with 58 race victories, making the team one of the most successful and envied among competitors.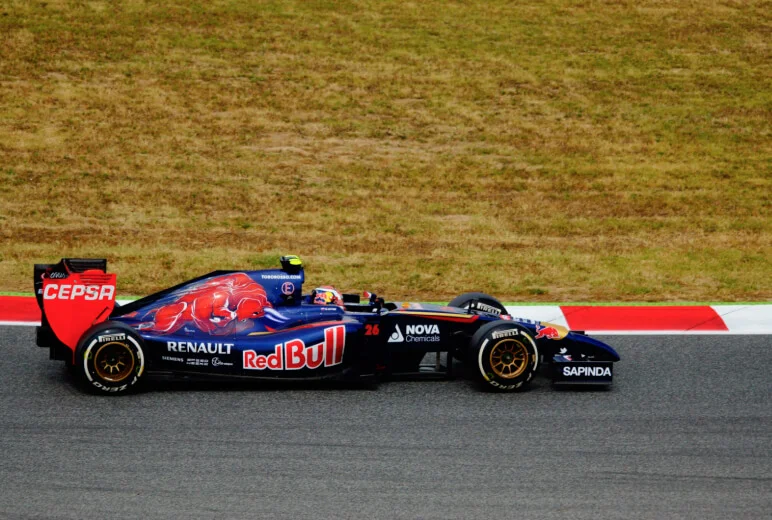 Mentioned above, Flugtag is another thing that gives Red Bull's marketing strategy a slight shade of insanity. This event lets brave and brainy competitors fly home-made, human-powered flying machines, sporting absolutely crazy designs. The machines are launched off the pier into the sea or other body of water. Although Flugtag is intended to "give wings" to the imagination, most competitors enter for the entertainment value only, and the flying machines rarely fly at all. This event is held annually worldwide.
Red Bull also sponsors olympic athletes such as Lindsey Vonn and Mikaela Shiffrin (Olympic gold medalists and World Cup alpine ski racers), Daniel Ricciardo (Formula 1 top racing driver), and another 500 world-class extreme sport athletes that compete in spectacular, and often record-breaking, events across the globe. In such a way, Red Bull's name is associated with victory and success.
As you can see, rather than wasting marketing funds on the back cover of Sports Illustrated, the company spends money to be on the front. They turn the drink choice into a lifestyle decision. The results of the strong alignment between sponsoring extreme sporting events and selling products with an edge, enables Red Bull to remain the market leader in its category.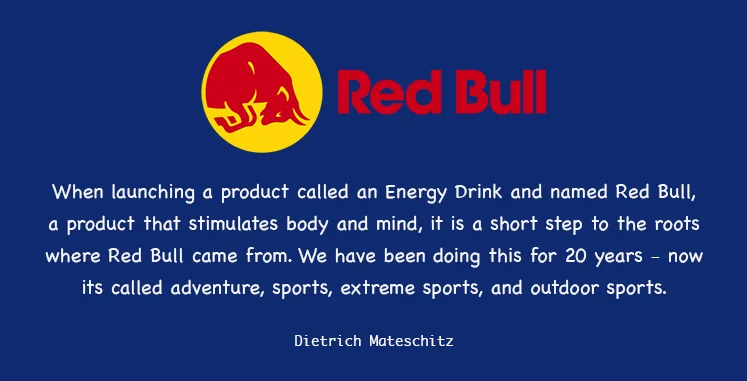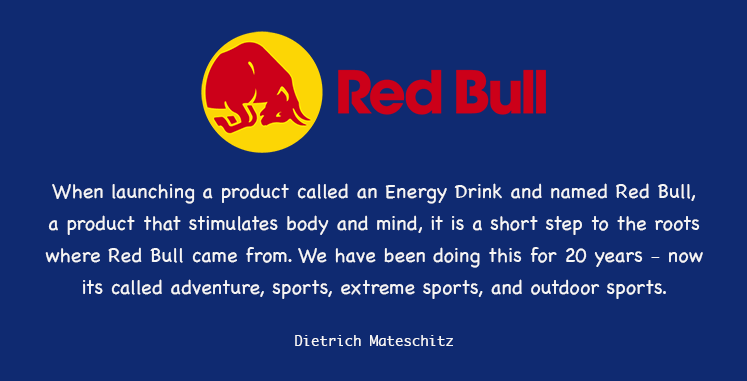 Through the sponsorship and ownership of extreme sports teams, Red Bull continuously engages with the customer in a deeper way than traditional advertising ever could. This allows its customers to feel active and intense, by drinking from a can that bares the same logo as a Formula 1 car, a skateboard, and a record-breaking parachute. To enhance this interaction, Red Bull often sells energy drinks on the site of the events it hosts or sponsors. Their strategy is focused not on promoting the popular energy drink, but creating a brand that embodies a distinct lifestyle and audience. And all their marketing efforts are aimed to serve this: promoting the brand and the lifestyle via top athletes that deliver the most impressive results.
Learn more about developing your brand

Marketing Expenses
Marketing is a vital part of virtually any business activity, and Red Bull knows it far too well. So, how much does it cost to build such a strong brand value with such brilliant marketing?
Since Red Bull is a privately-held company, it is not required to report its revenues and outcomes, so it is impossible to get accurate figures. However, there are some facts, on the basis of which, we can make assumptions.
It is estimated that Red Bull spends about a billion dollars annually. Impressive, isn't it? Nearly ⅓ of Red Bull's marketing budget is spent on Formula 1 racing, representing approximately $350 million annually. Therefore, they still have $650 million left, which essentially means the company can spend $1.78 million daily. Although, it is important to recall that in addition to Formula 1, Red Bull also sponsors several events and athletes worldwide. Therefore, we can see the total sum is easily justifiable.
Revenue Streams: How Does Red Bull Make Money
Well, reading about marketing expenses may leave you wondering – if the brand can afford such expense, how much is their revenue, and what do they get it from? Let's look at Red Bull revenue streams in more detail.
The revenue streams at this company appear to be numerous! Red Bull is not just an energy drink, and hasn't been for many years. We already know they also have a hand in professional sports, music, and other media areas. Nevertheless, the overwhelming revenue driver, to this day, remains beverage sales, representing approximately 97% of its whole earnings. Red Bull explicitly mentions "outstanding sales" and "ongoing brand investment", which indicates that the other activities are losses, not revenue streams. If you're curious about accurate figures. Red Bull GmbH grossed $7.4 billion in 2017.
Conclusion
What is the secret of Red Bull's phenomenal success? It is not easy for any company to stay dominant in a saturated market. However, this brand has succeeded due to its brave, impertinent, and creative approach to business as a retail entrepreneur.
P.S.
We thought you might also find the following facts about Red Bull interesting:
1. Red Bull employees have been reimbursed for taking flying lessons.
2. There is a limited Red Bull beverage edition that is available only for Formula1 VIPs. It is grapefruit flavored.
3. The logo on the Red Bull cans are not cattle, but a type of a bovine called a "gaur".
4. In 2012, Red Bull Stratos Austrian skydiver Felix Baumgartner jumped from the stratosphere. The total flight took around 10 minutes, and it cost nearly 50 million dollars.
5. In 2017, the company sold over 6.3 billion cans, and employed more than 12,000 people around the world.
6. To date, there is a rumor that taurine is made from bull's testicles. Certainly, it is not true.
7. Dietrich Mateschitz reportedly drinks up to 10 cans of Red Bull daily.
https://whidegroup.com/wp-content/uploads/red-bull-business-strategy-small-2.webp
300
772
Olha Fedchenko
https://whidegroup.com/wp-content/uploads/whidegroup_logo.png
Olha Fedchenko
2018-11-04 19:37:16
2023-02-24 10:33:16
Red Bull Business Strategy Explained
Red Bull Business Strategy Explained