Before you ask "Why should I think about Magento to Shopify migration?", answer the following question:
Do you want your online store to be operated by an e-commerce platform that has serious security issues?
We already know you don't. We're equally sure that your customers also aren't keen on having their sensitive data compromised. Whether you choose to believe this or not, unfortunately, this is the fate of every live Magento 1 e-commerce store since June 30, 2020. If you still own such a store and are smart enough to not lose the customers you have worked years building up and attracting, it's time to migrate, and the faster – the better.
Want to know even more about Shopify and its maintenance? Explore our
Shopify Speed Optimization guide
that explains the best Shopify store optimization practices.
However, the question of where to migrate remains open. A Magento to Shopify migration remains the second most popular request that we receive since the announcement of the Magento 1 end of life. So, in this article we will try to answer the following most frequent questions we get from e-commerce business owners everywhere:
Why move from Magento to Shopify?
Can I transfer my website to Shopify?
Why choose Shopify over Magento 2?
Does Magento to Shopify migration create any challenges?
How do I migrate my Magento site step-by-step?
How much does Magento 1 to Shopify migration cost?
First, let's start with the reasons why you should choose Shopify over the dozens of other e-commerce platforms available, including Magento 2.
Moving from Magento: Why Choose Shopify?
In fact, there are about ten different platforms that you might be offered as alternatives to Magento 1. The big ones are Shopify, WooCommerce, Bigcommerce, and Salesforce, but trust us, there are many others. Additionally, you of course shouldn't forget the possibility to migrate to Magento 2, which is a natural continuation of the first version of the platform, and provides huge scalability and customization opportunities for your e-commerce business.
In terms of migrating to something new, your choice of a platform should be based on:
The current functionality of your online store and a good understanding of your own plans for further scaling
The analysis of other e-commerce platforms available on the market
Comparing your list of needed functionality to your chosen platform capabilities
The complexity of the store migration to another platform (effective effort-result ratio)
The fact is that Magento 1 was a universal platform that was able to successfully run online stores of different sizes and levels of complexity. From small startups to enterprise levels, e-commerce businesses were able to set a flexible, reliable, and successful online store within Magento 1. Now that the platform is no longer supported, all those businesses need to find a new place to host their websites. However, there is no single correct answer to the question "where to migrate from Magento 1?", and every business should make an individual thought-through decision based on the detailed requirements in a new platform.
The real business review
Recently, we've been gathering insights from numerous e-commerce merchants whose businesses were operating on Magento 1 and thus decided to migrate right after its end of life date was announced. One of the reflections we appreciate the most was provided by Jeff Moriarty, the e-commerce manager at Moriarty's Gem Art.
We were on Magento 1 and were amazed at the costs to migrate over to Magento 2. Because of that we moved our company over to Shopify. It was probably the best decision we made. The cost to move was 1/4th the cost for Magento 2, and this platform gives us everything we needed that we had with Magento 1. After three months of using Shopify, it is so easy to use, none of the issues we had with Magento 1 and the cost to manage it is so much less than with Magento. Very happy we made the move.Jeff Moriarty, E-commerce Manager at Moriarty's Gem Art
As of today, Shopify is the only nearly universal solution for small to medium-sized businesses with relatively straightforward business operations. Even e-commerce giants like Nescafe, Red Bull, and Tesla Motors are successfully operating on Shopify, and have done so for many years.
So, why should you consider Magento to Shopify migration?
Here is a fairly short list of signs that Magento to Shopify migration is a good option for your store.
Your requirements of the store functionality are simple
Shopify is a fairly multifunctional platform that has hundreds of useful apps helping to customize the functionality of an online store. But once you migrate from Magento to Shopify your customization opportunities will become much more limited. You will not have access to the platform's source code and it is only the Shopify team who is responsible for any root changes and bug fixes.
Before you decide to migrate

Additional services for your store can be covered by available Shopify apps.
The hallmark of most Magento stores is an abundance of custom functionality that usually complicates and slows down a smooth migration process. On average, each Magento store has at least 10 such features. Some of them may no longer be of any use or have not been in use at all for years. In those cases, it will be easy to abandon the functionality and make a light move to Shopify. However, if the required functionality can't be implemented in a new platform, it is worth considering whether it ultimately makes sense for you to migrate from Magento to Shopify.
You do not want to host a website yourself.
Shopify is a SaaS platform. By choosing any of the available plans, you get reliable hosting out-of-the-box. This means you neither have to choose, maintain, and pay for hosting, nor scale it for seasonal sales peaks like the holiday season or black friday.
You want to migrate fast.
Perhaps this is one of the biggest advantages of a Magento to Shopify migration. Given that you have a couple hundred products in your current store and buy a high-quality Shopify theme template, you can migrate all the needed data and launch your new Shopify store within a couple of weeks.
You have under 100k products listed.
In fact, this is not a must-have requirement. Even if you have hundreds of thousands of products, they all will survive Magento to Shopify migration, though it will take much more time. Plus, you may face difficulties with transferring product bundles, downloadables, or other problems – but we will talk about those a little bit later. At the same time, with a couple hundred products, things appear to be much easier. You can recreate all products manually on the new platform. Actually, every e-commerce manager can fairly easily do it in several hours.
If you can answer "Yes" to most of the highlighted statements above then your search for the perfect platform is ended. Go with Shopify!
Challenges of Moving from Magento to Shopify
So now you're sure that Shopify is the right platform for your near-future platform move and you're ready to jump-start the migration process, right?
Stop! Wait for just a tick! Are you sure you are well-versed in every specific difference between these two platforms?
The truth is that while you're used to the Magento logics and structure, some aspects of Shopify may appear somewhat confusing. Even if you are going to hire an experienced developer to assist you in the Magento to Shopify migration, anyway, you still want to dig deeper into the peculiarities of the migration between Magento and Shopify.
To make your life at least slightly easier, we will provide you with the main distinctive features of Shopify in comparison with Magento 1. These features definitely deserve your attention. Without studying them, you might find yourself in a bit of trouble when setting up and tuning your new Shopify store after migration.
Differences in the categories and product data structure
Even with the help of migration apps (which we will talk about a bit later) the migrated data may look a little messy. You will have to get used to the new terms used in Shopify's catalog structure. Here are the main points you will have to get used to: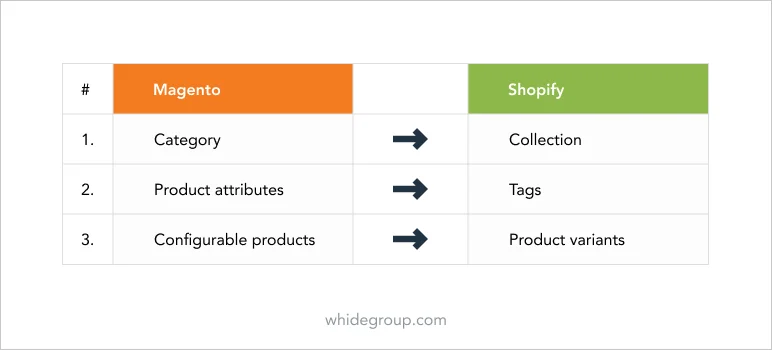 At first, you might be a bit disgruntled by these differences, but you really won't need much time to get used to them, and see that Shopify's approach to the products and collections structure (namely, products tagging) makes your website more SEO friendly and lets you promote your pages with long-tail keywords.
Magento product types like 'grouped products' and 'bundled products' are not available with Shopify native logics. As long as you don't have too many products in your store, such product types can be replicated in Shopify. However, if you do have a high number of products, it will take too much time to replicate them all. Additionally, these new products will be much harder and messier to manage and support.
SEO issues
Along with some of the SEO benefits that Shopify brings, when migrating from another platform, you should be prepared to face several issues as well.
The consequence of moving from one platform to another always means a hit to organic traffic. After launching a store on a new platform, in most cases, traffic can drop by 10-12% or more, and not return to its previous positions for several months. The biggest impact is due to platform URL structure differences. For clarity, look at the table below to better understand what we're talking about.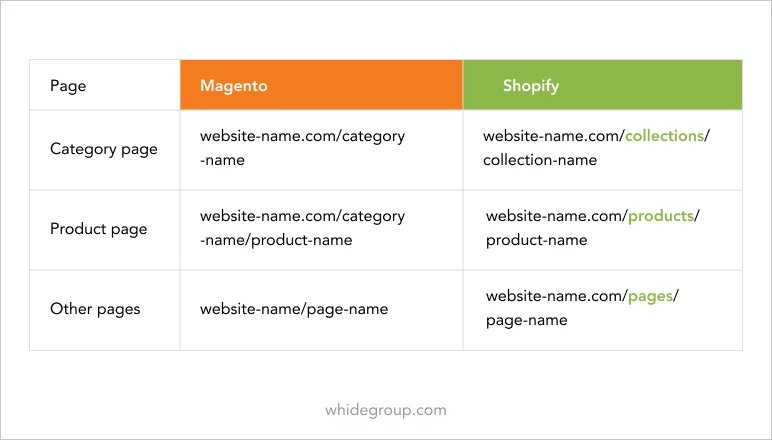 This is, of course, a huge risk factor for any online store with low to high traffic flows. To avoid such negative consequences, you need to use 301 redirects from old pages to the new ones as soon as you're ready for launch. This is especially vital if you plan to rework the internal pages and catalog structure. Under any circumstances, you don't want your potential and loyal customers to get stuck on 404 pages without having any idea of where they could find your new pages.
You can't migrate user account passwords
When migrating customers' data, keep in mind that user passwords can't be migrated to the new platform. One way or another, your customers will have to restore access to their personal accounts and reset the password manually. There are several possible approaches to making this process as convenient and flawless for customers as possible. The best you can do is:
1. Send an email notification with a message stating that in order to continue buying from the store, they need to restore access to their account. Include a link to the account reactivation page. Consider using a specific software to track the data on emails that were left unread and send a follow-up email to those destinations.
2. Add a link to the account reactivation page on the user login page for those who, for whatever reason, haven't read any of your email notifications. Add a link with a short comment to the user login page. Otherwise, your clients won't be able to get to their account with their former password. The key is making this process as easy and straightforward as possible for your customers.
Better migrate fast
One of the first stages of Magento to Shopify migration is exporting valuable data from Magento and importing it into the Shopify test store. Depending on the size of your e-commerce store and the complexity of its functionality, the entire migration process can take from a couple of weeks to several months.
Let's assume that during the migration the current store continues to take orders, and you add new products to the store and new categories to the catalog. By the time the new store is ready for launch, hundreds of new customers, thousands of orders, and other valuable data will appear. You'll definitely want to save all that new data by transferring it to the new store, and this means additional time and costs for the development.
Although delta migration is commonly inevitable, it is in your power to speed up this stage. Therefore, the faster all the previous steps of migration are completed, the less time it will take for the delta migration, and the faster you can launch a new store. The less data will be subject to the delta migration, the less likely it is to face new issues.
Choose developers wisely
To conclude our list of potential migration challenges, let's underline, the most burning issue merchants will likely have to face. Namely, finding the right developers. In fact, on the market you can find thousands of freelance specialists from all over the world with sufficient skills in Magento or Shopify development. However, in this case, hiring a freelancer is not the right choice. Here's why:
1. You will have to find a universal developer with deep expertise in both Magento and Shopify, and who is eligible to cover every technical aspect of migration.
2. One developer is usually not enough – especially if you want to redesign your store.
3. Hiring several individual freelancers specialized in different areas is also not a great idea. Migration is a complex process that requires well-coordinated teamwork, which will likely be a true challenge for remote freelancers.
It is best to involve a team of specialists who can complete all the necessary steps faster and within the set timeframes, from Magento to Shopify product migration to the store design and launch on live. Such teams usually have a lot more experience with both Magento and Shopify, an extensive portfolio, extensive expertise in custom functionality development, and can guarantee a flawless and hassle-free migration for a reasonable price. Shouldn't these factors be decisive when choosing developers?
In fact, the migration process can imply more challenges and issues. Sometimes unpredictable errors may appear, which are very difficult to anticipate before it happens. Again, everything always depends on the size of the store and its complexity, the types of products and, of course, the experience of the e-commerce developers engaged in the store migration process.
What Tools Does the Market Offer to Migrate Data from Magento to Shopify?
Currently, there are three popular data migration tools/apps that can significantly help to import products from Magento to Shopify. These are:
To let you see which of these tools might be the best choice for your e-commerce needs, below we provide an overview of each of them and include a comparison table at the end to make digesting the information a bit easier.
#1 Matrixify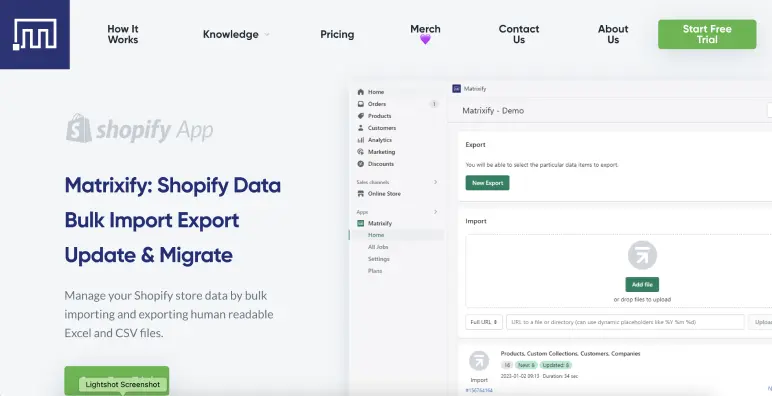 Matrixify is an app that helps you to migrate Magento to Shopify and provides a great set of tools for the migration of data from Magento (and other platforms) to Shopify. With this app, you can export and import important data, such as products, customers, orders, pages, blog posts, discounts, and all the other valuable content you undoubtedly have.
Matrixify has a number of advantages. Several of the most valuable are:
Reasonable import time
Convenient data modification and deletion
Detailed instructions and step-by-step guides available
Suitable for Magento export products and processing of loads of other data, etc.
We all know that there is nothing perfect in this world, so along with all its advantages, the Matrixify app has several disadvantages that you should be aware of in advance:
1. Magento to Shopify data migration with Matrixify will require manual work. A lot of it. Especially, if you need to migrate hundreds of thousands of products or customers. This implies additional (paid) human hours.
2. The app can't cope with multi-store data and won't correctly process the data from multi-language stores.
#2 Litextension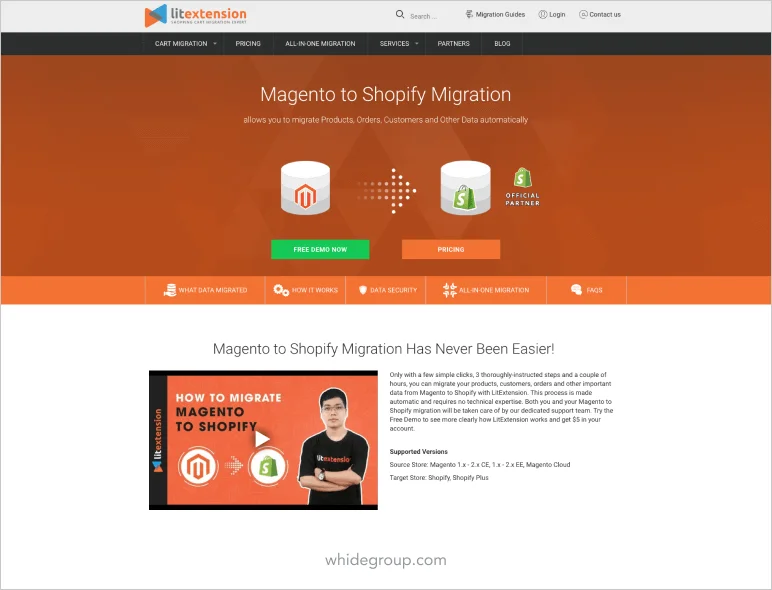 The company positions its product as a complete solution for data migration from any shopping cart to Shopify. The service works in automatic mode and, upon being launched, the migration will be processed even if you turn off your computer or the internet connection is lost. The following data can be migrated using Litextension:
Products
Product categories
Orders
Customers
Reviews
Coupons
SEO URLs and more.
Among all of the advantages the app provides, we would like to underline the following ones:
Able to migrate multiple languages and multi-store data
Typically requires minimum manual work
Has the option to preserve order IDs in the new store
And here are a few shortcomings of the service that we want to warn you about:
Sometimes the data comes duplicated or incorrect
The app's interface is not user-friendly
The pricing depends on the size of your store
#3 Cart2Cart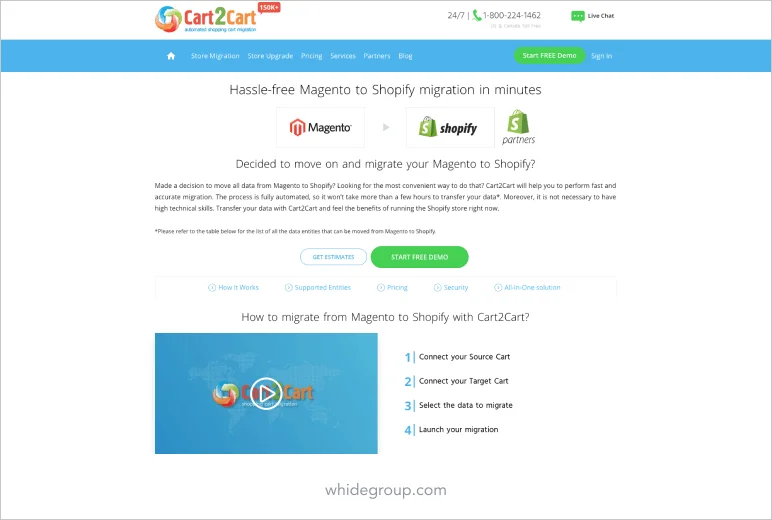 Cart2Cart – The Magento to Shopify migration tool that has been on everyone's lips for several years already. Cart2Cart specializes in data migration between more than 80 e-commerce platforms, from 3DCart to X-Cart and Yahoo Store. For those who need Magento 1 to Shopify migration, Cart2Cart's services are extended to the migration of products, product categories, customers, orders, reviews, coupons, CMS pages, manufacturers, and the ability to choose which store to migrate data from (in case you have a multi-store on Magento).
Some additional free and paid options can provide great extra flexibility and advanced features to your migration process. Some of the prior advantages are:
Migration of customer groups into customer tags
Preserving order IDs
Automatic creation of 301 redirects after migration
Migration of products descriptions
Migration of images from product descriptions, product categories, and blogs
The points below will showcase several disadvantages of the Cart2Cart Magento migration to Shopify service that might dissuade you from using it:
It's pretty costly for stores with a smaller budget
It still requires manual work
Users often report issues with support
Each of the presented tools has other advantages and disadvantages, as well. But one thing is for sure – none of them can guarantee you a complete automation of the data migration stage. Either way, you will have to manually check the data for errors. However, most applications provide a test migration of your store's data so you could verify that a certain tool works well for you.
Data to be migrated
Matrixify
Litextension
Cart2Cart
Data to be migrated
Categories
Data to be migrated
Products
Data to be migrated
Customers
Data to be migrated
Orders
Data to be migrated
Draft orders
Data to be migrated
Static pages
Data to be migrated
Blogs
Data to be migrated
Metafields
Data to be migrated
Reviews
Data to be migrated
Multistore
Data to be migrated
Multi-language
Data to be migrated
Order IDs
Data to be migrated
Customer IDs
Data to be migrated
Error reports
Data to be migrated
Redirects
Data to be migrated
Payouts
Data to be migrated
Discounts
Data to be migrated
Automated data migration
Data to be migrated
Manual migration
A Step-by-Step Checklist for Flawless Magento to Shopify Migration
Now that you know the main challenges that may await you and have the list of necessary tools to choose from, we are ready to proceed to the phased implementation of the migration of your Magento store to Shopify.
Being acquainted with the market in general and with various separate cases of such migrations, we've found that most of them are processed according to singular scenarios. For many reasons, the number and sequence of steps may vary depending on the client's needs or the individual approach to the process on the developers' side. At Whidegroup, our team has perfected our own scheme based on our gained experience over the years, and we want to present it to you.
So here is how our step-by-step Magento to Shopify migration checklist looks like:
1. Revise the functionality.
2. Decide what data you need to migrate.
3. Migrate and configure the data.
4. Set up the needed apps.
5. Develop and implement custom functionality (optional).
6. Work on the store design.
7. Delta migration.
8. Go live!
NOTE! Until the very last byte of data is migrated, every inch of the store on a new platform is tested, and the new design is launched on live, your current Magento store must be kept running! Continue managing it as you did before, because the migration process will take time.
Step 1: Revise the Functionality
The first and foremost step we recommend before you start to migrate Magento to Shopify is revising every single feature currently used in Magento. This might mean your out-of-the-box features, some helpful third-party extensions, or your custom-made functionality. Once you've compiled a list of these features, look over it once again. Your next step is going to be to mark the ones you can't leave behind and need available in the Shopify store. Those features that do not bring value to your store can be safely removed from the list.
Now you should check if the needed functionality is available in Shopify out-of-the-box or with third-party apps. Most likely, there will be some features or systems you need to integrate that you won't be able to find. However, there is no need to fret. Shopify developers can provide you with almost any custom solution to meet your requirements.
PRO TIP: To choose the best Shopify apps, you should follow the footsteps we've described in
our article
devoted to the topic.
After you've figured out the list of features and apps, put it aside for a while. We will come back to it later.
Step 2: Decide What Data You Need to Migrate from Magento to Shopify
The data migration step (the next one) is the most time consuming (unless you have decided to create the design from scratch). Of course, you'll want to migrate such data as products, categories, customers, order history, and blog posts. It's also ok if you want to migrate static pages like 'about us', the contact page, etc.).
What you should also consider is whether you really need to migrate all the historical data that has been piling up since the very first launch of your store. We agree that the more data you transfer to the new platform, the easier it will be for you to re-setup the overall marketing activities. However, if your store has been operating for at least 10 years, you will easily find loads of obsolete data with no use anymore. This is the perfect time to get rid of it.
Step 3: Migrate and Configure the Data
Now it's time to use one of those tools we mentioned above. A step-by-step guide for the data migration will differ a little, depending on the tool you use. Above all, this process will take time and, most often, requires extra help.
Exporting products, orders, and customer data from Magento, then configuring it, and importing the prepared data to Shopify may not seem complicated at all. More of that, most data migration tools provide a free test migration for a limited number of data entities. This means you can try to run a test migration yourself and see how it works for you. If you have no issues – great! You can proceed with data migration. However, if you see that something is not working in the way it should, that's a good reason to seek help on the side of the migration tool support or a developer who is proficient in data migration.
As soon as you migrate products from Magento to Shopify, it's time to make the next step.
Note! Each step of the migration MUST be accompanied by thorough testing. Every inch of migrated data requires quality assurance since each tiny mistake or hidden bug both complicates the further steps and threatens the flawless operation of the store after its launch.
Step 4: Set Up the Needed Apps
Do you remember the list of apps you compiled at 'Step 1' of our checklist? Now it's time to put it into action. When your store data is already migrated you can start working on improving your store's functionality and services. Just go to the Shopify App Store and set up all the needed third-party apps. With every newly installed app, pay extra attention to the functional testing of each new added feature. Make sure that everything works smoothly and the apps don't conflict with each other.
Note that most Shopify apps have either a trial period or provide a money back guarantee, so you will have time to install and thoroughly test your website's new functionality.
Step 5 (Optional): Develop and Implement Custom Functionality
After organizing your data and setting up third party apps, it's time to think of what features are still missing. Most likely, you will be able to find ready to go solutions, but today, some features still need to be developed from scratch.
If you find yourself in need of any custom functionality, feel free to contact Shopify developers and assign them with this task. The good news is that Shopify app development usually takes a lot less time and is less costly than its Magento counterpart.
Explore more about

Step 6: Work on the Store Design
In Shopify, as well as in Magento, you have two options here:
1. Buy and apply one of the hundreds of ready-made theme templates.
2. Design and develop your own unique and universal theme in accordance with your personal needs, taste, and best usability practices.
In fact, numerous development companies and freelance developers suggest to start working on the design of the updated store much earlier – namely, right before the data migration step. Yes, this option is possible and works quite well. However, at Whidegroup we believe that it is best to develop and test your new design when your original products are already migrated and configured in the way they should appear on the live site.
Such an approach can significantly reduce the likelihood of future problems. For example, when configuring products on a platform with a preinstalled theme or adding new functionality supposed to change the layout of any collection or product page, in most cases, you will have to additionally configure your theme. And this means extra time and effort.
As for the choice between a template and a custom-made Shopify theme, it depends solely on your needs and budget. There are hundreds of ready-made Shopify theme templates with general purpose as well as those that are created specifically for stores operating in different market niches. At the same time, custom theme implementation is the best way to reflect your brand identity and tone of voice, and provide your customers with the high-converting user interface aligned to your business model.
Step 7: Delta Migration
While you were working on migrating data from your Magento store to the new development environment and setting up the needed services on Shopify, your e-commerce business wasn't paused. Hopefully, your store was:
Running and making sales
Enjoying new customers who were subscribing to your newsletters
Seeing new products being added to the catalog
Now, when your store is ready to be launched on the new platform, it is crucial to migrate all this new data and ensure that you don't lose your recent orders and customers info.
Magento to Shopify delta migration takes much less time than the initial data migration stage. Therefore, we will not dwell on this step for long. Just remember that the algorithm of actions for delta migration looks just the same as for the initial data migration. Namely, use Magento to Shopify importer again to export/import the latest data, check the result and, if needed, configure it manually.
Step 8: Go Live
Next, when all data is in its place, all apps and services are installed, and custom functionality is implemented and thoroughly tested, it's time to go live! Still, there are several steps to keep in mind and implement right after the launch.
Watch for SEO.
Optimize your store's content to not lose the organic traffic. We've already mentioned that you should be ready to see slight traffic fluctuations right after you launch on a new platform. However if you fix all the internal issues prior to going live this won't become a problem for you. Shopify is an SEO friendly platform, so the major steps you need to take are to:
Configure 301 redirects
Revise pages' meta titles and meta descriptions (optimize them, if needed)
Submit an XML sitemap
Continue creating keyword-rich quality content to increase a visibility of your website throughout the search engines
Notify your customers
After the Magento to Shopify migration, it's time to notify your customers. Invite them to visit your brand new store and let them know that they should restore access to their accounts by resetting passwords.
Educate your customers
If your new design implies any changes in the customer journey within your website, or if a new function was added, it would be sensible to guide your customers on how to use it correctly. You can do so with the help of visuals, friendly animations, or detailed step-by-step instructions. Choose the option you like more.
Train your staff.
No matter how user-friendly the Shopify admin panel is and how easy it is to manage the stock, your employees should have some time to get used to the new interface.
These points are not the end. To keep your store up and successfully running, don't stop at that. Go on adding rich content, keeping your hands on SEO trends, reducing Shopify bounce rate, optimizing Shopify conversions, and attracting even more customers by developing and implementing loyalty programs.
Magento to Shopify Migration Cost
First, for the sake of honesty, we can't define the stack of work to be done and definitely can't precisely estimate the cost to migrate Magento to Shopify without seeing the store that needs to be migrated. Second, the price will differ significantly depending on who will be involved in the migration. Here, you have several options:
#1 Do it yourself
If you are tech-savvy enough, you can take all the responsibility and migrate the store on your own. In terms of money, this will cost you almost nothing, except for the money charged by the migration tool (if you use one). However, it will cost you time, and a decent amount of time, too.
#2 Address a migration tool support team
You can involve a migration tool support team and ask them to migrate the data for you. This is a viable option in case you are sure that you can cover the other stages of migration and setting up the new store. However, you take a risk. Not every merchant is happy with the all-in-one Magento to Shopify migration services provided by these companies, as illustrated by their numerous reviews.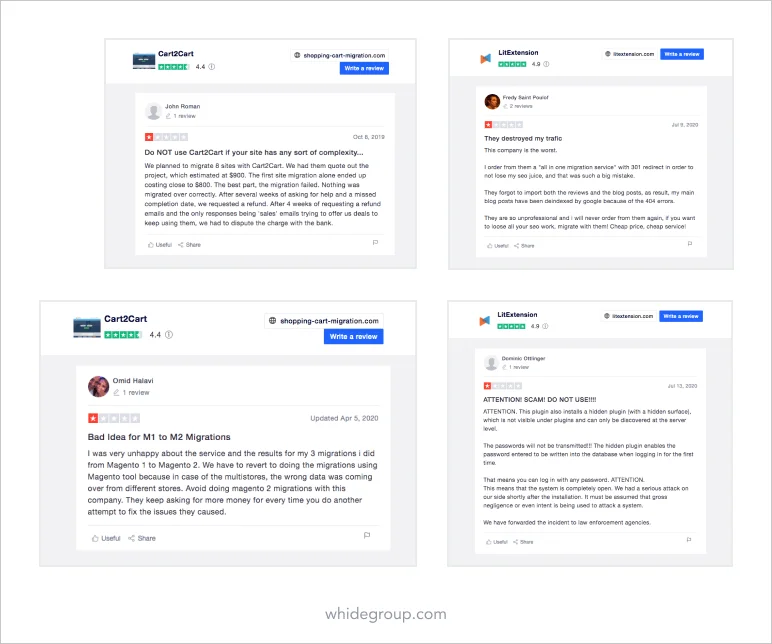 #3 Hire professional developers
Shift all aspects of Magento to Shopify migration to experienced developers. This is the most preferable option since you can spend your time more on the business development instead of the website development. If you need assistance in every migration aspect, it is better to hire a team that consists of experienced Magento and Shopify developers, and a designer and project manager. With such a team, you can expect a flawless website migration from Magento to Shopify.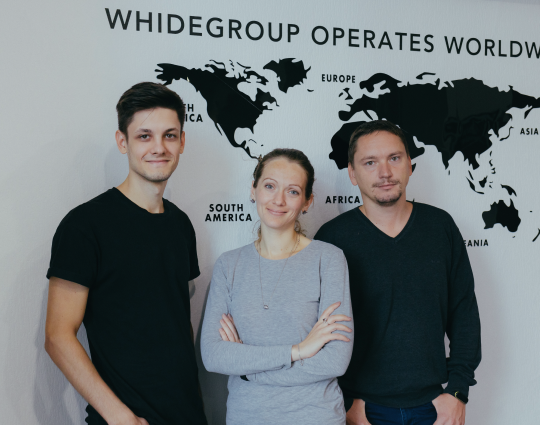 Looking for help?
Contact Experts in Magento to Shopify Migration
To give you at least an approximate migration time estimation, we will exclusively use our own experience gained from recent Magento to Shopify migration projects.
The following criterias help to define the duration of each stage of migration:
Size of your store (number and types of products, number of orders and customers to be migrated, etc.)
The number of needed third-party apps
Whether you want a template or a custom made design
The number and complexity of required customizations
Based on these criteria we have compiled a simple table in which you can see the approximate time estimates for the migration of different e-commerce stores depending on their sizes and complexity.
Store size
Approx. time for development (hrs)
Note
Approx. time for development (hrs)
60-100
Note
Provided that the store has a maximum of a couple hundred products, does not need any kind of customization (except for ready-made apps), and a theme template will be used.
Approx. time for development (hrs)
160-200
Note
Estimated hours include the data migration, theme template customization, no complex custom features development.
Approx. time for development (hrs)
300+
Note
Though it is possible, we do not recommend enterprise-level e-commerce businesses to move to Shopify. In this case, Magento 2 would be the wiser, time/money saving decision.
As for the price, it is even more difficult to give specific numbers. E-commerce development companies' rates can differ significantly depending on their location and the level of proficiency. On average, the rates start at $15-20 and reach the sky-high $200 per one hour of development. If you are interested in getting a more precise estimate of your Magento to Shopify migration cost you're welcome to contact us. You won't lose anything either because our estimate is absolutely free!
Final Thoughts
If you incorrectly assess your business needs or overestimate your capabilities, at first sight, the otherwise simple Magento to Shopify migration may turn into a complete disaster. To avoid these negative consequences, we recommend seeking professional assistance. If you, nevertheless, want to run it on your own, make sure you have enough knowledge and free time to gradually, step-by-step, go through the entire migration path so as to not harm your business. To make the process easier, migrate Magento to Shopify with the help of our handy checklist.
Once the migration is done, you will have the opportunity to enjoy Shopify as one of the most user-friendly e-commerce CMSs.
https://whidegroup.com/wp-content/uploads/magento-to-shopify-migration-guide-small.webp
300
772
Olha Fedchenko
https://whidegroup.com/wp-content/uploads/whidegroup_logo.png
Olha Fedchenko
2023-08-04 10:36:55
2023-08-04 14:10:19
Escaping the Magento 1 End of Life: How to Migrate Magento to Shopify in 2023 Without Losing Any Data
Escaping the Magento 1 End of Life: How to Migrate Magento to Shopify in 2023 Without Losing Any Data